The Occupation Isolates Palestinian Villages West Salfit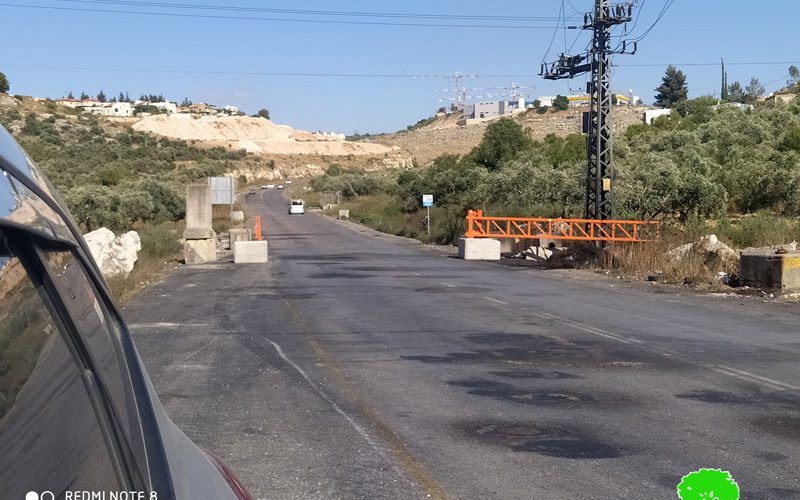 Violation: Setting up a new metal gate.
Location: Villages and towns west Salfit Governorate.
Date: May 20th 2021.
Perpetrators: The Israeli Occupation Forces.
Victims: Palestinians west Salfit Governorate.
Description:
Thursday, May 20th 2021, the Israeli Occupation Forces installed a metal gate on a road at  the east of Qarawat Bani Hassan west Salfit.
The metal gate closed off the road to several villages and towns such as: ((Bidya, Qarawat Bani Hassan, Sarta, Mas-ha, Az-Zwiya, Rafat, Deir Ballut)). this is a vital road taken by Palestinians to get public services and reach workplaces, health centers and hospitals to receive medical aid. about 34,000 Palestinians were affected by the closure.
Noteworthy, Closures, road blocks and movement restrictions are one of the cruelest collective punishment policies practiced by the occupation against Palestinians.
Reportedly, the occupation closed off the same road in 2000 via earth mounds and a metal gate. The road was reopened in 2011 , the blocks were removed to the roadsides, but the occupation came back and sat the gate to restrict citizens movement.
Bidya village council member Dawoud Salama told LRC:
"The western villages of Salfit are heavily targeted by the occupation assaults, many of the western lands in Salfit were devoured in colonies' construction and expansion . thus, the occupation is trying to devour more lands to allow their colonies expand in the future, the occupation also notified several Palestinian structures in C area , because they want to keep it as a reserve for future colonial expansion."
Photo 1: The metal gate
Salfit Governorate suffers from the occupation's movement restrictions policies, the occupation installed metal gates on most vital roads and controls movement to and out of villages, which is a clear violation of human rights. Reportedly, 22 roads in Salfit are closed either via metal gates or through road blocks and earth mounds.
 International conventions and agreements related to freedom of movement:
Article 3 of the Universal Declaration provides that "everyone has the right to life, liberty and security of person."
Article 5: No one shall be subjected to torture or to cruel, inhuman or degrading treatment or punishment.
Article 9 that "no one shall be subjected to arbitrary arrest, detention or exile"
Article 13: Right to freedom of movement
Everyone has the right to freedom of movement and residence within the borders of each State.
Everyone has the right to leave any country, including his own, and to return to his country.