The Occupation Forces Set flames to Wheat Fields in Immatain village / Qalqilya Governorate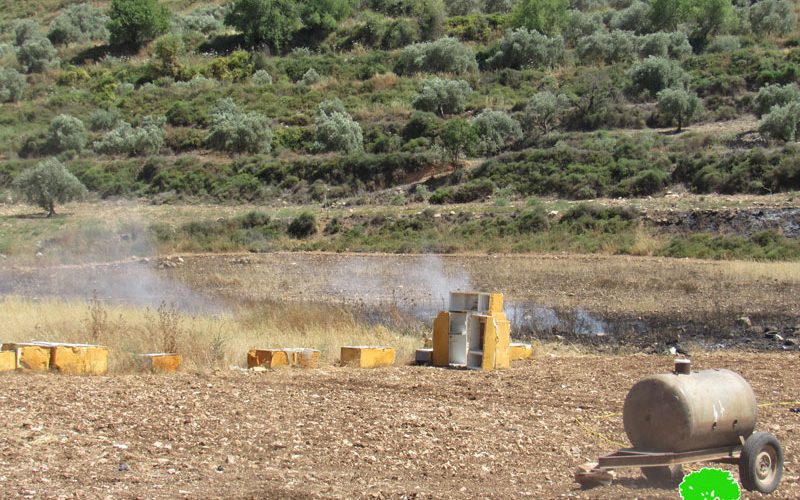 Violation: Setting Fire to Wheat Fields.
Location: Immatin village / Qalqilya Governorate.
Date: May 16th 2021.
Perpetrators: The Israeli Occupation Forces.
Victims: Three families at the village.
Description:
Sunday, May 16th 2021, the Israeli Occupation Forces raided Immatain village east Qalqilya and attacked protestors in a Demonstration against Israeli Human Rights Violation in Ash-Shaikh Jarrah and Gaza , the occupation Shot tear gas at protestors and at a nearby wheat field, the flames erupted and ate three dunums.
The targeted lands belong to Rashid Suwan (500 m2), 'Ali Suwan (1500 m2), Raji Madaniya (1000 m2).
The Israeli Occupation targets farmers in Palestinian suburbs, and the attacks escalate during olive harvesting seasons. Colonists on the other hand carry out arson attacks in wheat fields jut before harvest seasons. During the past years, number of colonists' attacks were reported to the Israeli police and official bodies, but not a one serious investigation was opened to stop them.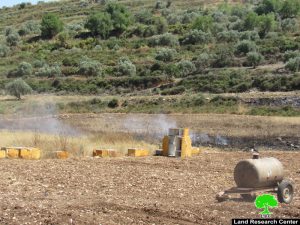 Photos 1-5: The wheat field after an arson attack in Immatain
Farmer Rasheed Suwan (46) told LRC:
"in the past, I rented a plot with a total area of five dunums from an Immatin landowner, which I've been cultivating every year with wheat and vegetables. About 1:00 pm a massive army force raided the main entrance north the village. Provocatively, the occupation forces shot tear gas bombs towards wheat fields, and the fire ate vast areas among which 500 m2 belong to me. Noteworthy , our loss is huge, each 1 dunum produces 600 kg of wheat, in addition to wheat hay."
About Immatin Village:[1]
The village of Immatin is located 20 km to the east of Qalqilya. It is edged by Qalqiliya city from the east, Kfar Qaddum from the north, Al-Funduq from the west , Fartaa and Jit from the north and Deir Istiya from the south.
It has a population of 2,755 until 2017. It has a total area of ​​7,346 dunums, of which 306 dunums are built-up area.
The Israeli occupation forces confiscated 311 dunums of the village's lands as follows:
Emmanuel colony looted (160) dunums from the village lands
The bypass road number 55 confiscated about 30 dunums from the lands
The apartheid wall seized 121 dunms for its construction
Classification of land according to the Oslo agreement for the village:
Areas classified B are (3,940) dunms.
Areas classified areas C are (3,406) dunums.
When completed, the wall in Immatin will be 4,582 meters and will confiscate and isolate a total of 2,675 dunums.
[1] GIS-LRC