The Occupation Forces set Fire to a Grocery Shop on Ni'lin / Ramallah Governorate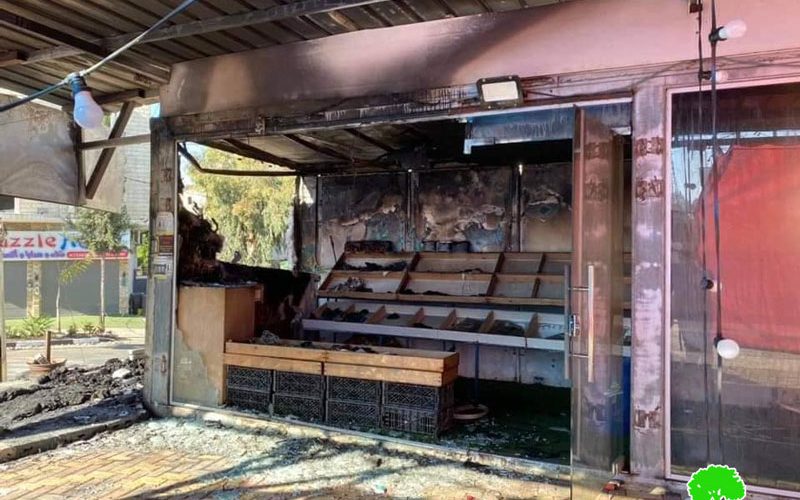 Violation: Setting fire to a grocery shop.
Location: Ni'lin town / West Ramallah.
Date: May 14th 2021.
Perpetrators: The Israeli Occupation Forces.
Victims: Citizen Mu'taz Nafe'a.
Description:
Friday afternoon, May 14th 2021, the Israeli occupation forces threw a grenade inside a grocery shop in Ni'lin, setting the whole store on fire and burning all the goods inside it, the electricity network also exploded inside the shop.
The store belongs to Citizen Mu'taz Naqe'a (35) from Ni'lin, who told LRC:
"I rented a grocery store and it is the only source of income for my family of 4, 2 children. During clashes between the occupation forces and villagers, the occupation threw a grenade inside the shop , and it was set alight and the fire ate everything we had inside. Noting that paper and cartoon boxes helped expanding the fire , people of the neighborhood helped me to kill the fire, but I lost everything inside the shop, and both the electricity network and the store gate were affected, my financial loss amounted to 7000 shekels".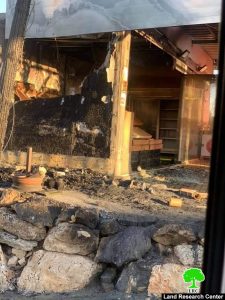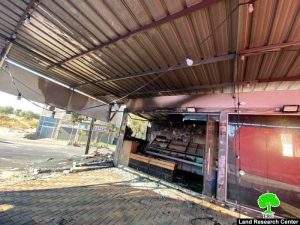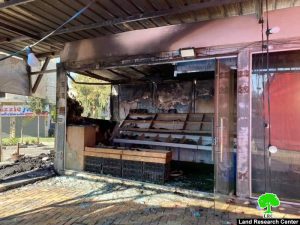 Photos 1-3: The damages in the grocery store following the fire
About Ni'lin: [1]
20 km to the northwest of Ramallah, Ni'lin is edged by the towns of Qibya and Budrus from the north, Al-Midyah town from the southwest, Deir Qidees town from the east and Mod'in and Kiryat Sefer colonies from the south.
Ni'lin is inhabited by 5897 people on a total land area of 15,206 dunums, of which 748 dunums are the village's built-up area.
The occupation confiscated a total of 3020 dunums for colonial ends, which are detailed as follows:
Hashmona'im colony: it was established in 1985 on confiscated area of 858 dunums from the village. It is now inhabited by 2097 colonists.
Kiryat Sefer: it was established in 1991 on confiscated area of 476 dunums from the village. It is now inhabited by 24,290 colonists.
Mattityahu colony: it was established in 1980 on confiscated area of 657 dunums from the village. It is now inhabited by 1365 colonists.
Colonial bypass road number 446confiscated 408 dunums
The apartheid wall confiscated 621 dunums for the favor of its construction and isolated 14,083 behind it.
According to Oslo Accords lands classifications, Ni'lin lands are classified as follows:
1,123 dunums are classified as area "B".
14,083 dunums are classified as area "C".
[1] GIS-LRC