The Occupation Authorities Issue Demolition Orders for 3 buildings in Nahalin town / Bethlehem Governorate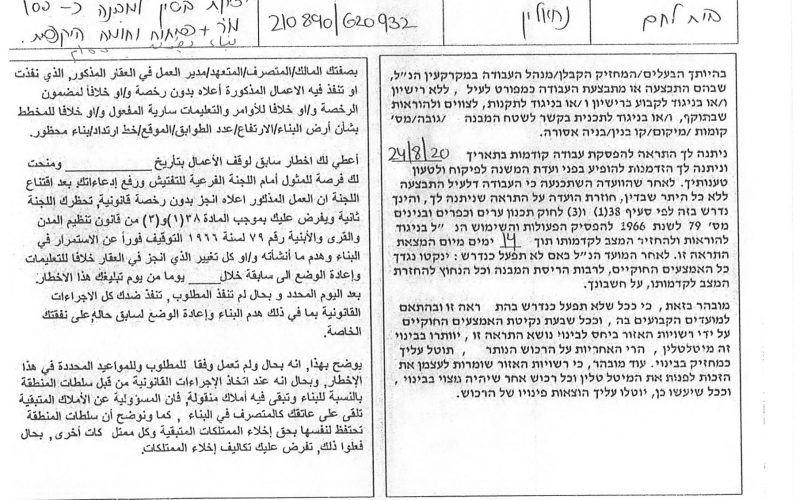 Violation: Final Demolition order for residential buildings.
Location: Nahalin – Bethlehem Governorate.
Date: May 26th 2021.
Perpetrators: The Israeli Civil Administration.
Victims: Mohammed Najajra and Fahmi Najajra.
Description:
Wednesday, May 26th 2021, the building inspector at the so called Israeli Civil Administration raided Nahalin and issued final halt of work orders on the pretext of building without a license.
The notice ordered the immediate stoppage of construction works, and demolish what was built within 14 days. Noteworthy, the owners received a preceding halt of work notices in August 24th 2020.
The following table shows more information about the targeted structures:
Affected citizen

Family members

Area m2

Notice type and number

Notes

Mohammed Najajra

5

600

Final Demolition Order (31869)

A building of 3 floors

240

Final Demolition Order (31870)

A building of 2 floors

Fahmi Najajra

7

100

Final Demolition Order (31871)

A cement building
Citizen Jihad, a member of Jihad office told LRC:
"we, the people of Nahalin are used to live in independent houses with gardens and trees around them. The Occupation wants us to build apartment buildings and leave our lands for colonial expansions. This will never happen; it is our right to live on the land we inherited from our ancestors."
It is clear in the map above that Fahmi Najajra house is located in an area surrounded by illegal Israeli colonies including Beitar Illit, Rosh Tzurim , Javout , and Neve Daniel , the occupation authorities is trying to impose control over these lands for future colonial expansion. While Mohammed Najajra house is nearby B area, a part of the village that contains many houses.
Land Research Center LRC sees that demolitions contradict with all of the international conventions and Humanitarian laws including:
Article 147 of Geneva fourth convention: extensive destruction and appropriation of property, not justified by military necessity and carried out unlawfully and wantonly. ( it is considered a serious violation of the convention).
Article 53 of the Fourth Geneva Convention of 1948 prohibits the destruction of property, as this article states the following: "The occupying power is prohibited from destroying any private, fixed or movable property related to individuals or groups, the state or public authorities, or social or cooperative organizations, unless the war operations inevitably require this destruction.
Article 33 of the Fourth Geneva Convention states: "No protected person may be punished for an offense he or she has not personally committed.
Paragraph 'g' of Article 23 of the Hague Convention of 1907 AD also warned against destroying or seizing the enemy's property, unless the necessities of war necessarily require such destruction or seizure.
 Nahalin:[1]
The village is located 9 km to the south west of Bethlehem and 3.5 km to the east of the armistice line of 1949. It is edged by Bitar Illit and Hadar Bitar colonies (north), al Khader (east), Wadi Fukin and the armistice line (west), and number of Israeli colonies (Rush Tzorim, Ealazr, Allon Shevut, and Ezyon) (south).
The village's total area is 17250 dunums including 496 dunums of built-up area, inhabited by 7460 people according to the PBS statistics of 2007. Israel has confiscated 2988 dunums of the village lands for colonial expansion purposes. 5 colonies inhabited by more than 30,000 colonists reside over the village lands.
[1] GIS-LRC
Prepared by
 The Land Research Center
LRC