Final Demolition Order for Mlihat Family House in 'Arab Al-Frijat – South Hebron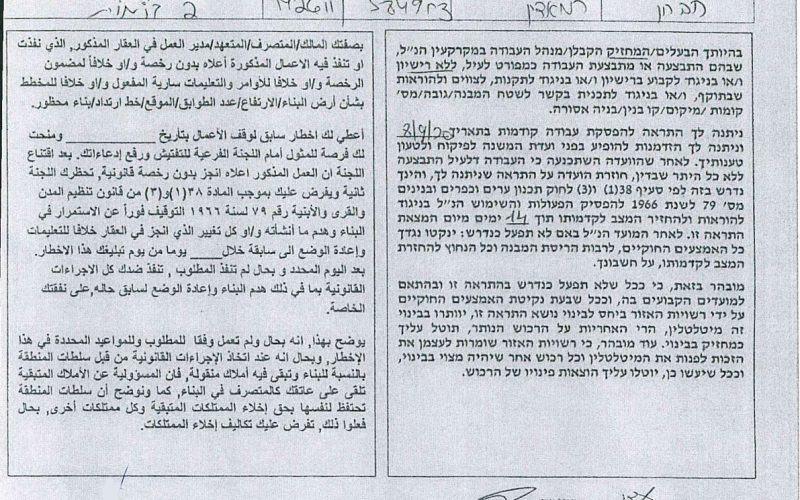 Violation: Final Halt of Work Order for a house.
Date: May 24th 2021.
Location: 'Arab Al-Frijat / Hebron Governorate.
Perpetrators: The Israeli Civil Administration.
Victims: Citizen Samir Al-Mlihat.
Description:
Monday, May 24th 2021, The Israeli Occupation Authorities issued Final Halt of Work order for house of citizen Samir Mlihat , on the pretext of building without a license in Arab Al-Frijat village east Ar-Ramadeen town , South Hebron Governorate.
Mlihat told Land Research Center that a vehicle belongs to the building and organization department raided the area, and the building inspector at the Israeli Civil administration hanged the demolition order on the house, and took pictures of it before withdrawing.
Demolition order number (508593) imposes the immediate stoppage of construction works and demolish what was built within 7 days , and threatened in case the owner did not carry out the demolition , the occupation forces will implement it and make him pay all the costs.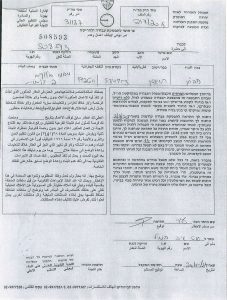 Demolition order number 508593 which targets house of citizen Samir Al-Mlihat

Reportedly, the targeted house consists of two floors, and still under construction , it is built of bricks and concrete since 2020 and is supposed to be a home for a family of 4, 2 of them are children.
Noteworthy, in September 8th 2020 , the occupation authorities issued a halt of work notice for the house , and came back later and issued a demolition order as part of their policies that target Palestinian houses and structures.
'Arab Al-Frijat village is located to the east of 'Arab Ar-Ramadeen , and has a total population of 1000 people, most of them depend on agriculture and cattle breeding for living.
'Arab Al-Frijat community is the closest Palestinian community to the armistice line of 1948, and overviews Beersheba city behind the green line. The area is a hot spot for violations and attacks since the occupation authorities sat up Adh-Dhaheriya crossing between Adh-Dhaheriya and the occupied territories of 1948.