Final Demolition Order for an Under Construction House in Marah Rabah village / Bethlehem Governorate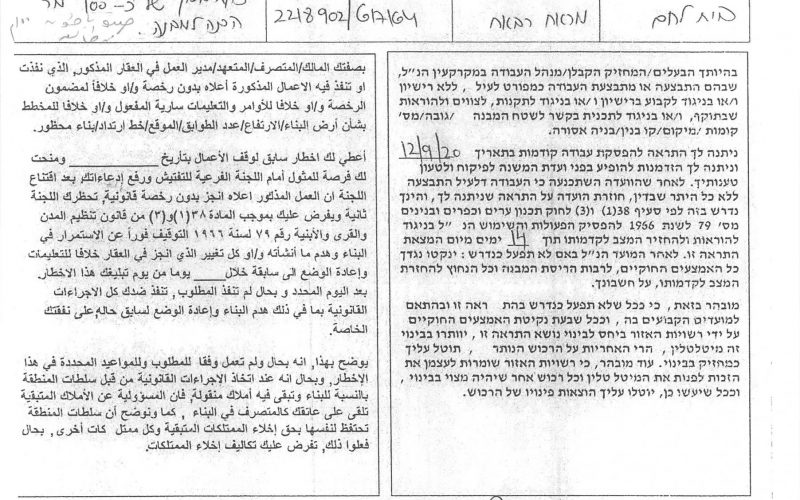 Violation: Final Halt of Work and Demolition Order for an under-construction house.
Location: Marah Rabah area- Bethlehem Governorate.
Date: May 26th 2021.
Perpetrators: The Israeli Civil Administration.
Victims: Faisal 'Amour.
Description:
May 26th 2021, the so-called building inspector at the Israeli Civil Administration raided Marah Rabah village, and served halt of work notice for a baton area (100 m2) that belongs to citizen Faisal 'Amour, on the pretext of building without a license.
The notice ordered the immediate stoppage of construction works, and returning the plot to its previous status within 14 days. Noteworthy, affected citizen received a halt of work notice in September 12th 2020 , it is also important to mention that the occupation confiscated tools and construction materials in 2020 after serving the notice.
Mohammed 'Issa from Tuqu' municipality told LRC:
"The Owner built a house for his family as part of his believe to his right to an adequate house, but people of the area are going under a vicious attack by the occupation to prohibit expansion."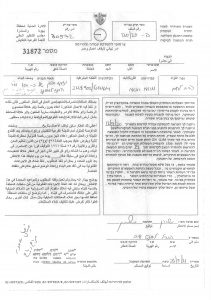 Notice number 31872 for house of citizen Faisal 'Amour

Legal Commentary:
Demolition of Palestinian Structures in International Law:
The Fourth Geneva Convention, Article 147, stipulates that "extensive destruction and appropriation of property, not justified by military necessity and carried out unlawfully and wantonly" is a "grave breach" of the Convention. 
Article 53 of the Fourth Geneva Convention of 1948 prohibits the destruction of property, as this article states the following: "The occupying power is prohibited from destroying any private, fixed or movable property related to individuals or groups, the state or public authorities, or social or cooperative organizations, unless the war operations inevitably require this destruction.
Article 33 of the Fourth Geneva Convention states: "No protected person may be punished for an offense he or she has not personally committed.
Paragraph 'g' of Article 23 of the Hague Convention of 1907 AD also warned against destroying or seizing the enemy's property, unless the necessities of war necessarily require such destruction or seizure.
Marah Rabah village:[1]
Marah Rabah is located south Bethlehem, the village is surrounded by Al-Manshiya and Al-Halqum (North) , Wadi Mihammad (west and east) and Beit Fajjar (south).
Marah Rabah has a population of 1729 , according to (2017) census, and a total area of 2451 dunums, of which 158 are physical building area.
In Oslo conventions the town was divided to 2 areas:
B area: 1580 dunums.
C area: 871 dunums.