Demolition Notice For an under-construction house in Bruqin town / Salfit Governorate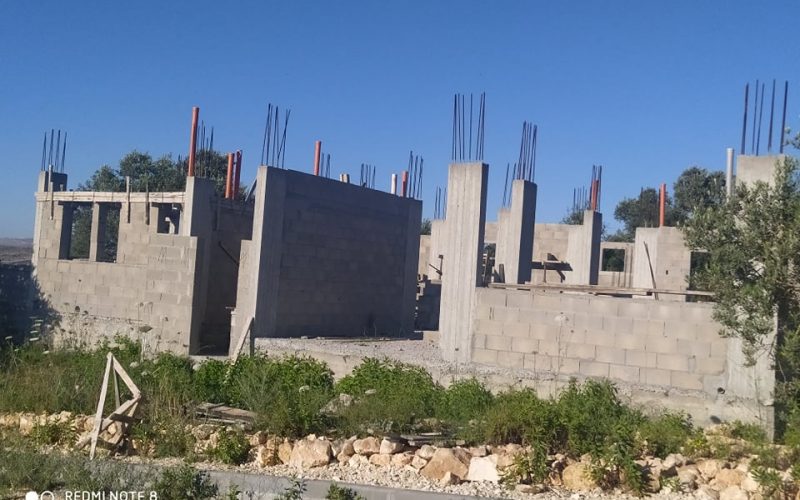 Violation: Demolition Notice target an under-construction house.
Location: Bruqin town west Salfit.
Date: May 5th 2021.
Perpetrators: The Israeli Occupation building inspector at the civil administration.
Victims: Citizen Flesteen Abu 'Eid.
Description:
Wednesday, May 5th 2021 , the so-called construction inspector at the Israeli Civil Administration accompanied by army forces raided Bruqin , and targeted an under construction house at Al-Buqa'an area in a military order "removal of a new building" on the pretext of building without a license in "C" area , the order entitled "10048" set 96 hours to implement the military notice.
The targeted house is under construction and consists of one floor with a total area of "120 m2" , that belong to citizen Flestin Abu 'Eid from Bruqin , who is the supporter of a family of four , two of them are children.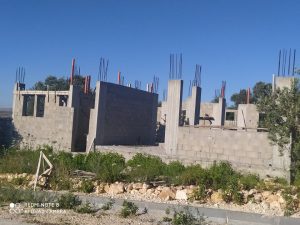 The Occupation Authorities issued the notice in reference to military order (1797) for 2018 and targets under construction buildings. The Israeli authorities carries out mass demolition operations, while the Israeli courts refuse objections on such notices.
A Wave of notices:
According to Bruqin municipality, about 27 residential and agricultural structures are threatened of demolition on the pretext of building without a license, the occupation is hindering licensing procedures, and prohibit physical expansion.
 Bruqin: [1]
It is located 10 km to the west of Salfit city; Bruqin is one of the Palestinian villages that depend mostly on agriculture in its income. And bordered by Haris (north), Kafr Ad-Dik (west), Farkha and Salfit (East), Kafr Ein, Bani Zayed, Qarawat Bani Zaid (south).
The town has a population of (4,174) people in 2014 census.
The town has a total population of 285,12 dunums , of which 706 dunums are the town's built up area.
The occupation devoured (3,385) dunums , for the following purposes:
Table 1: land confiscations in Bruqin:
No.

Colony

Establishment date

Built-up area

Type

Built over

1

Barkan

1981

622.5

Industrial

Sarta, Bruqin, haris

2

Bruchin

1999

265.5

Residential, industrial

Bruqin, Haris

3

Ariel Gardens

1978

5226

Industrial

Bruqin

 
Bypass roads devoured about 503 dunums.
Oslo accords divided the land into the following :
A area: (1,005) dunums.
B area : (4,376) dunums.
C area: (6,906) dunums.
[1] GIS-LRC