100 Olive Saplings Uprooted in Jayyous town / Qalqilya Governorate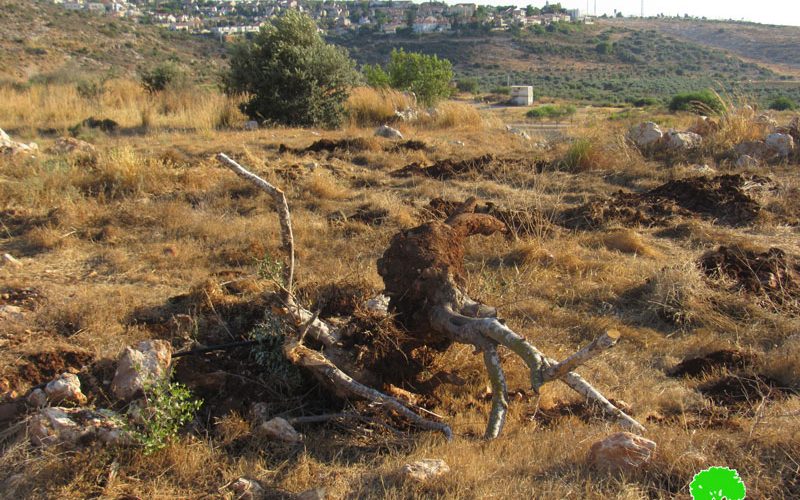 Violation: Attacking olive trees.
Location: Jayyous town / Northeast Qalqilya.
Date: May 31st 2021.
Perpetrator: The So-called Governmental properties officer at the Israeli Civil Administration.
Victims: Heirs of Hassan Saleem.
Description:
Monday, May 31st 2021, The Israeli Occupation Forces accompanied by the so called governmental properties officer at the Israeli Civil Administration raided Al-'Aqed area west Jayyous, and heavy machineries uprooted 100 olive trees including (30 olive saplings aging 5 years old and 70 olive saplings aging two years old). In addition, the occupation destroyed 100 m of a retaining network (2 inches * 400 m ) .
The targeted plot belongs to heirs of Hassan Saleem, and were planted early this year under a project implemented by PARC in order to protect and develop the targeted areas, at the time the occupation closes off vast areas under claims they are classified as an Israeli state property.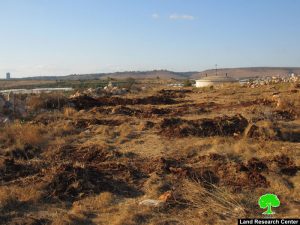 The Photo Shows scenes from the attack
Noteworthy, in February 25th 2021, LRC field monitoring team documented an attack on a 30 dunums plot that also belongs to Heirs of Hassan Saleem, while the targeted part in this order is 2.5 dunums planted with olive saplings. Which was entitled (Order targets a plot (excessive use of a plot) No.1586, 5767) , it required the removal of saplings and returning the plot to its previous status on the pretext of using a governmental property.
The targeted plot is in natural block (3) of pieces (786) (788) (787)  of Jayyous lands where the occupation turned vast areas into state properties, and imposed restrictions on land use and access. During the past years , the occupation cut and sabotaged more than 700 olive saplings at the location on the pretext of using a state property.
Jayyous:[1]
Jayyous is located 10 km to the northeast of Qalqiliya city and is edged Falamya village from the north,   Zufin colony the west, Khirbet Jabir from the east and Izbet Al-Tayeb from the south.
Its population mounts to 3731 (2014 census) people who live on a total land of 10,925 dunums, of which 418 dunums are considered the village's built-up area.
Israeli colonies confiscated 724 dunums from Jayyous lands. Zufin colony that was established in 1990 is founded on confiscated lands from the village.
The apartheid wall is founded on 1045 dunums from the area and was reported to isolate 6,496 dunums behind its construction. The lands of Jayyous hamlet are classified according to Oslo Accords as the following:
3128 dunums (29%) are classified as area B.
7707 dunums (71%) are classified as area C.
[1] GIS-LRC