The Israeli Occupation Demolishes a House Belongs to Ja'abis family in Beit Sahur city / Bethlehem Governorate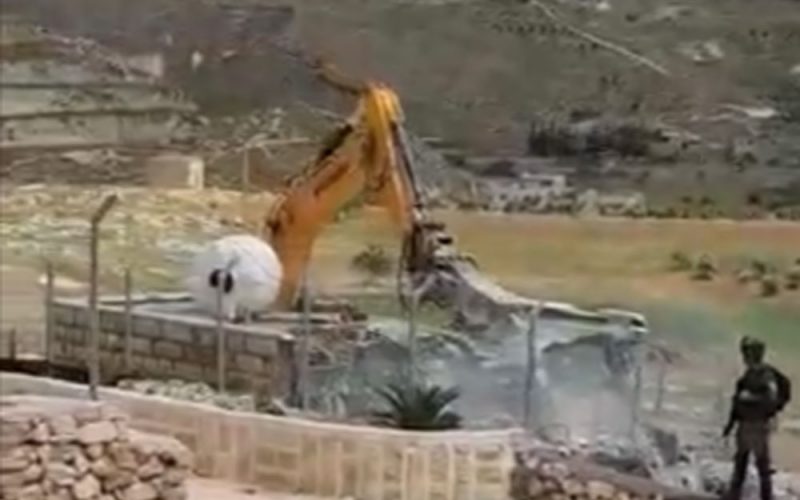 Violation: Demolishing a house.
Location: Ras Al-Wad – Beit Sahur city / Bethlehem Governorate.
Date: April 12th 2021.
Perpetrators: The Israeli Occupation Civil Administration protected by the occupation forces.
Victims: Citizen Shaker Ja'abis and his family.
Description:
Monday, April 12th 2021, The Israeli Occupation bulldozers demolished a house belongs to citizen Shaker Ja'abis in Ras Al-Wad area in Beit Sahur city, on the pretext of building without a license.
Colonization and Wall Resistance commission head in Bethlehem told LRC researcher the following:
"Massive army forces raided Ras Al-Wad area, and demolished a house with a total area of 80 m2. Noteworthy, the area of the house is residential and contains a large number of houses. One of the owners' brothers was killed by the occupation forces, so this is not the first time he finds himself under the occupation's sword."
The Israeli Occupation heavily targets Palestinian structures, and enacts laws to be used against Palestinians. In addition, the Israeli Juridical system is unjust to Palestinians. The owner Ja'abis on the other hand prepared the necessary documents to protect his house, but the occupation authorities never considered that.
For the second time, the occupation demolishes Aj-Ja'abis house?
Affected Citizen supports a family of 7, 5 of them are children. The Occupation demolished his house in 2014 in Jabal Al-Mukabir on the pretext of building without a license. The owner bought a plot in Beit Sahur, and built a new house but the occupation bulldozers demolished it within 96 hours after serving the notice.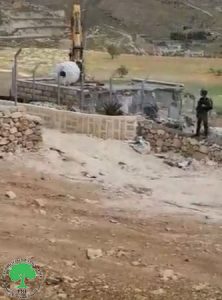 Photos 1-4: The Occupation's bulldozers

Legal Commentary:
Demolition of Palestinian Structures in International Law:
The Fourth Geneva Convention, Article 147, stipulates that "extensive destruction and appropriation of property, not justified by military necessity and carried out unlawfully and wantonly" is a "grave breach" of the Convention.  
Article 53 of the Fourth Geneva Convention of 1948 prohibits the destruction of property, as this article states the following: "The occupying power is prohibited from destroying any private, fixed or movable property related to individuals or groups, the state or public authorities, or social or cooperative organizations, unless the war operations inevitably require this destruction.
Article 33 of the Fourth Geneva Convention states: "No protected person may be punished for an offense he or she has not personally committed.
Paragraph 'g' of Article 23 of the Hague Convention of 1907 AD also warned against destroying or seizing the enemy's property, unless the necessities of war necessarily require such destruction or seizure.