Revava Colonists Sabotage 13 Olive Saplings in Haris Village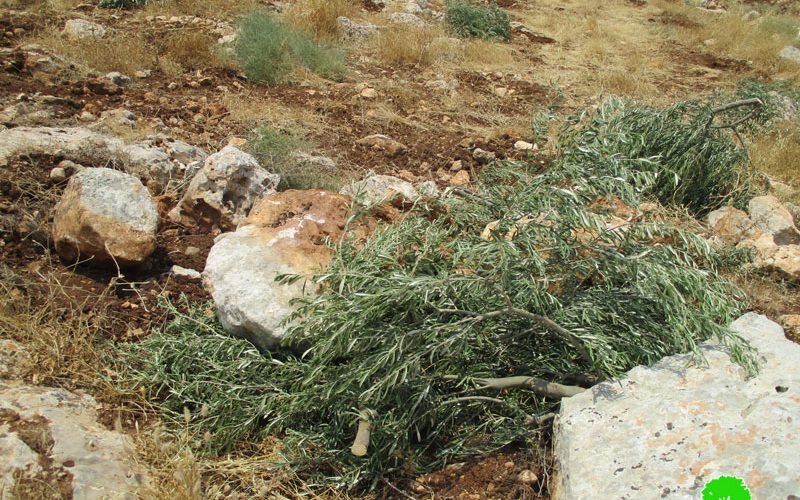 Violation: cutting down olive saplings.
Location: Haris village Salfit.
Date: April 22nd 2021.
Perpetrators: colonists of the illegal colony Ravava.
Victims: Aisha Ahmed Qassem.
Description:
As a continuation of their vandalize attacks against Palestinian land and properties  , settlers of "Ravava" colony attacked an agricultural land located in  ​​basin No. 2 of the village's lands, and proceeded to cut and destroy 13 olive plants using sharp tools, The targeted site is located a few meters away from the fence of the colony.
The targeted saplings belong to farmer Aisha Qassem, 65 years old, from the village of Haris. Speaking to LRC field researchers Aisha said the following:
"This is not the first time we find ourselves under colonists attacks,  The target saplings were planted three years ago after colonists had cut down more than 45 seedlings , in order to force us  leave our land for future settlement expansion".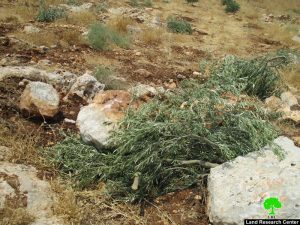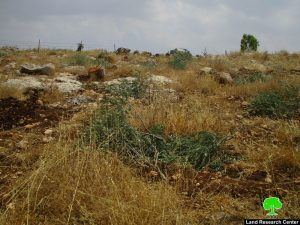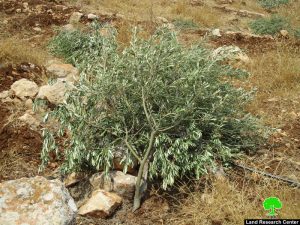 The affected citizen noted that Israeli colonists intensify their attacks especially during olive harvesting and cultivation seasons. Many of these attacks were reported to the occupation police, which never open a proper investigation for such assaults.
It is noteworthy that the target area which is located to the west of the village of Haris has been subjected, over the past years, of mass ravages aimed at expanding the settlement of "Ravava" where a number of building were constructed there.  Colonists assaults are considered one of the used methods to displace the local population and replace them with colonists.
About Haris:
7 km to the northwest of Salfit governorate, Haris is located with a total land area of 8769 dunum, of which 190 dunums are the village's built-up area. Haris is surrounded by the villages of Deir Istiya from the north, Kifl Haris from the east, Kfar ad-Dik and Bruqin from the southwest and Qarawat Bani Hassan from the west.
It has a total population of 3740 people according to the census of Palestinian Central Bureau of Statistics for 2009. Those people hail from the following families: Abu Atta, Dawoud, Salamih, Sultan, Shihada, Souf, Faz', Awwad, Qasim, and Klaib. The Israeli occupation confiscated 3631 dunums from the village as follows :
Israeli colonies confiscated 2672 dunums as detailed in the below table
| | | | |
| --- | --- | --- | --- |
| colony | Year of establishment | Confiscated area\dunum | Number of colonists |
| Kiryat Netafim | 1982 | 188 | 384 |
| Revava | 1991 | 269 | 703 |
| Burkan | 1981 | 177 | 1207 |
| Burkan Industrial | 1981 | 1346 | — |
| Ariel Industrial | — | 692 | — |
| Total |   | 2672 | 2294 |
726 dunums were confiscated to open the bypass roads numbers ( 505, 4765, 5506)
The apartheid wall confiscated 233 dunums for its establishment. Upon its completion, the wall will isolate 7135 dunums
According to Oslo Accords, the lands of Haris are classified as follows:
631 dunums are classified as area "B"
7815 dunums are classified as area "C"