Halt of Work Notice for a Graveyard in Ad-Deirat village / East Yatta – Hebron Governorate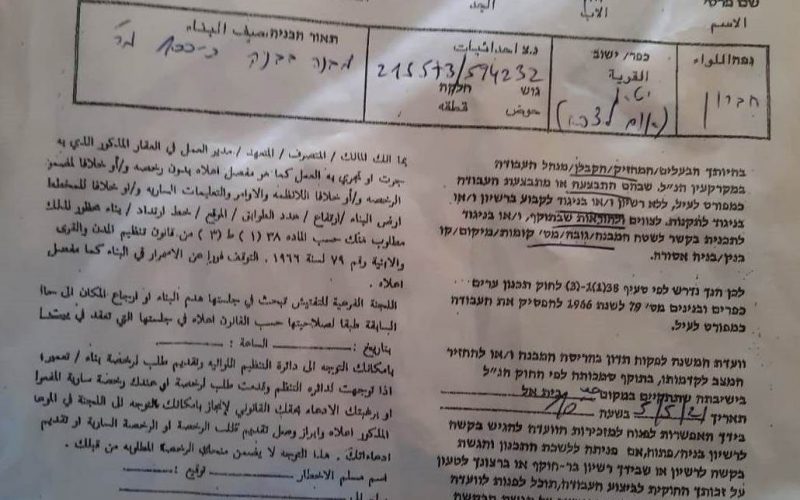 Violation: Halt of Work Notice.
Date: April 18th 2021.
Location: Ad-Deirat village / East Yatta – Hebron Governorate.
Perpetrators: The Israeli Civil Administration.
Victims: People of Ad-Deirat.
Description:
Sunday, April 18th 2021, Halt of Work notice targets a graveyard in Ad-Deirat village in Yatta South Hebron. Reportedly, a vehicle from the building and organization department at the civil administration raided the area, put the halt of work notice on the graveyard area and took pictures of it before withdrawing.
 Notice number (266771) was entitled "Removal of a new building" order the immediate stoppage of construction works at the graveyard noting that new graves are being built.  The Occupation set May 3rd 2021 as the date of the subcommittee session in Beit El military court to decide the fate of the structure.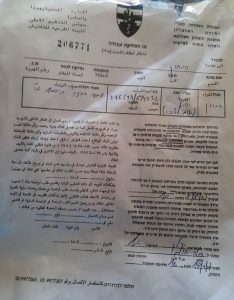 Notice number 266771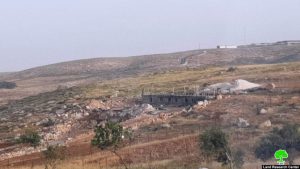 Photo 1: The graveyard
 Noting that a citizen from Ad-Deirat village donated a plot to expand the village cemetery, and 8 new graves are being built late March 2021 from reinforced concrete, but they were targeted by halt of work notices.
  About Ad-Deirat:[1]
Al-Deirat village is located to the east of Yatta town and is about 6km away from it. The village is considered agricultural and is inhabited by 1312 people in 2017;  a village council runs the affairs of al-Deirat despite there is no headquarter for the council itself.
A number of families reside in the village namely : (al-Hamamdah, Musa'fieh , al-Adra); al-Deirat is split by the bypass road no. 60, which links all Israeli colonies in the north with those in the south.
The village is edged by Arab al-Ka'abna and al-Karmel colony from the east, Yatta town from the west, Khirbet al-Bwaib from the north and Ma'on colony and Um Lisfa village from the south .Residents of the area aspire to obtain a master-plan for the village that includes their houses  in order to protect them from Israeli orders of stop-work and demolition
[1] GIS-LRC