Final Demolition Orders issued for Agricultural Facilities and an Electricity Network in Surif / West Hebron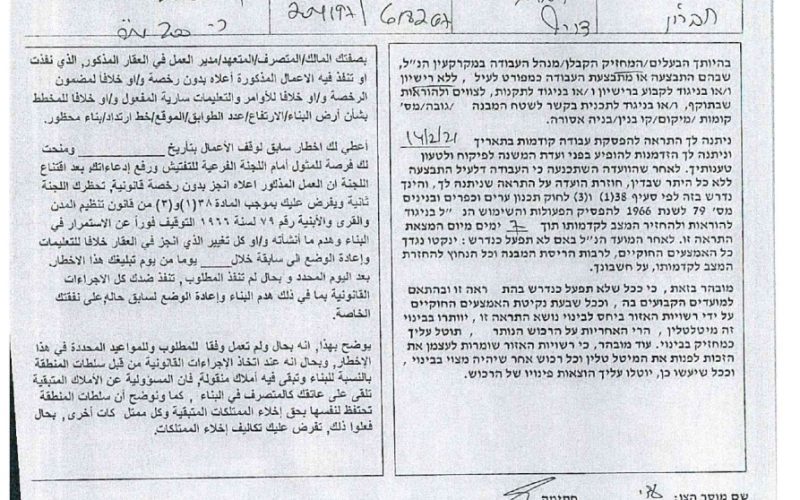 Violation: final Demolition Order.
Location: surif/ Hebron Governorate.
Date: April 19th 2021.
Perpetrators: The Israeli Civil Administration.
Victims: 3 citizens from Surif.
Description:
April 19th 2021, the Occupation authorities issued final halt of work and demolition order for agricultural facilities and an electricity network, on the pretext of building without a license in Surif town west Hebron Governorate.
Affected citizens said that a vehicle belongs to the building and organization department at the civil administration raided the town, and got to Khirbet Ad-Deer northwest the town, the building inspector wrote the notices hanged them on the targeted structures, and took pictures of them before withdrawing.
In the notices, the Occupation Authorities ordered the immediate stoppage of construction works, and demolish what is built within 7 days of the demolition date. The Occupation Authorities threatened in case the owners did not carry out the demolition themselves , the occupation forces will carry out the demolition and make the owner pay the expenses of the demolition.
The following table shows detailed information about the targeted properties and the owners:
#

Affected citizen

Family members

Area m2

The targeted facility

uses

Demolition order

1

Ibrahim Hmidat

6

150

Shack built of bricks and steel sheets

Poultry breeding

2

'Aref Hmidat

12

200

Shack built of steel sheets

Sheep breeding

3

Mohammed Ghnimat

10

400

Shack built of bricks and steel sheets

Cows breeding

300

Electricity Network

Providing electricity for the agricultural facilities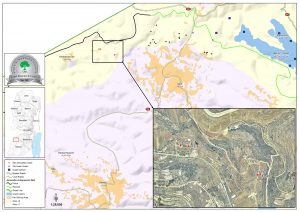 Prepared by
 The Land Research Center
LRC