The Israeli Occupation Demolish Four Houses in Al-Mufqara and Khallet Ad-Dabe'a in Masafer Yatta/ South Hebron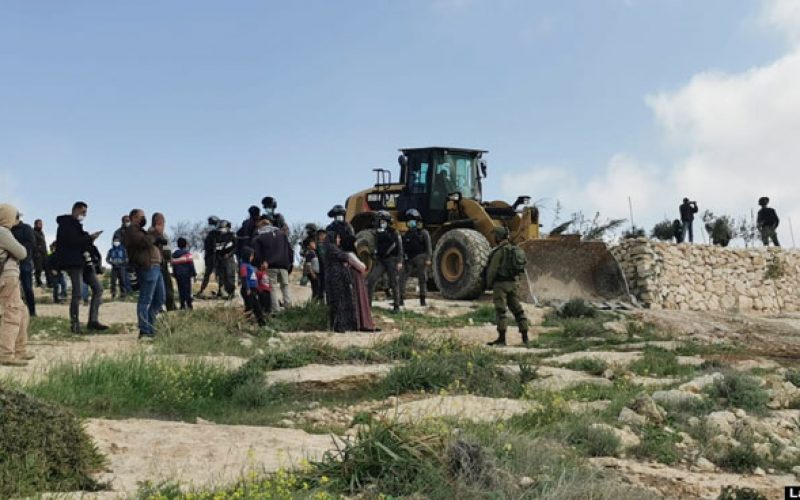 Violation: Demolishing four houses.
Date: March 2nd 2021.
Location: Al-Mufqara and Khallet Dabe'a – Yatta town/ Hebron Governorate.
Perpetrators: The Israeli Civil Administration.
Victims: Citizen Hatem Makhamra, Jabir, and 'Amer Dababsa.
Description:
March 2nd 2021, the Israeli Occupation Authorities demolished four houses, on the pretext of building without a license in Al-Mufqara and Masafer Yatta villages south Hebron.
Al-Mufqara village
 A massive army force, border guards, officers from the building and organization department, accompanied by a JCB and a CATERPILLAR bulldozer raided the area, and demolished a building with a total area of (20 m2) , built of stones and a wooden ceiling and used as a residence, the owner had built it after his house was demolished in November 25th 2020.
In February 8th 2021, the occupation authorities served a halt of work and demolition order within 96 hours for the targeted house.
Khallet Ad-Dabe'a village
The Occupation forces later headed to Khallet Ad-Dabe'a village – East Ar-Rakeez, and arrived to two houses belong to brothers 'Amer and Jaber Dababsa.
The Bulldozers leveled 'Amer Dababsa house (70 m2) built of bricks and was supposed to be a home for a family of 8 , 6 of them are children.
The house was built after the occupation demolished the owner's previous house in November 25th 2020.
The Occupation also demolished two structures built of bricks with cement ceilings, one of them has a total area of (30 m2) and the other is (40 m2), the structures together were a house for a family of 5, 3 of them are children.
The Occupation demolished a house belong to Jaber Dabasa for the fourth time in November 25th 2020.
The Structures were leveled to the ground without any preceding notices, which means that the owners did not have a chance to object.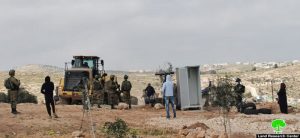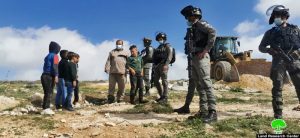 Photos 1-4: The Occupation Authorities demolishing houses in Khallet Ad-Dabe'a
The Following table shows more information about Demolition in Al-Mufqara and Khallet Ad-Dabe'a in March 2nd 2021:
Affected Citizen

Village

Family Members

 Children

Area of the building m2

Current status

Construction year

notes

Hatim Makhamra

Al-Mufqara

6

4

20

Used

2021

Demolished for the second time

'Amer Dababsa

Khallet Ad-Dabe'a

8

6

70

Under construction

2021

Demolished for the third time

Jaber Dababsa

Khallet Ad-Dabe'a

5

3

30

used

2021

Demolished for the fifth time

40
For more information read reports on Israeli violations in Al-Mufqara and Khallet Ad-Dabe'a villages, and the violations of the right to an adequate housing: