The Israeli Occupation Demolish and Confiscate an Agricultural room in Al-Fakheet at Masafer Yatta / South Hebron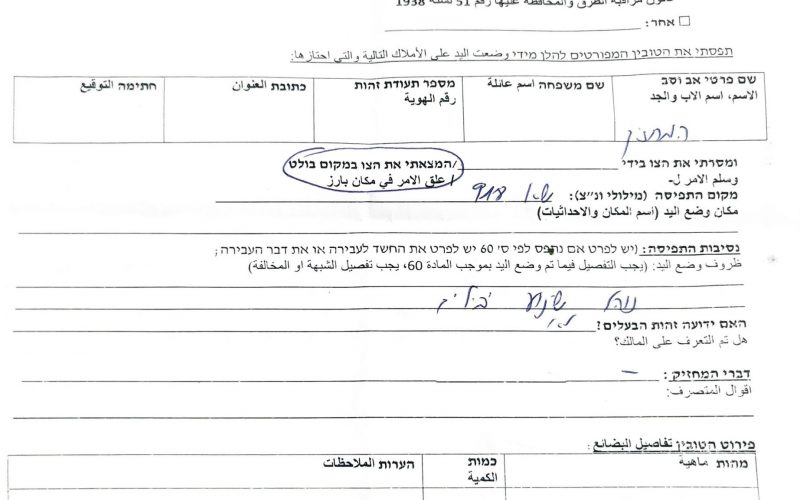 Violation: Demolishing and Confiscating an Agricultural room.
Date: March 17th 2021.
Location: Al-Fakheet – Masafer Yatta / Hebron Governorate.
Perpetrators: The Israeli Civil Administration.
Victims: Citizen Foad Al-'Amour.
Description:
March 17th 2021, the Israeli Occupation Authorities demolished an agricultural room and confiscated its components in Al-Fakheet village in Masafer Yatta south Hebron.
The targeted room belong to citizen Foad Al-'Amour (40 years) , who told LRC: "I own a plot in Al-Fakheet with a total area of 75 dunums , and in October 2020 I built a room of tin sheets installed on metal columns at my plot in time with winter crops season , I planted the plot with legumes and vegetables , and the room was supposed to provide a roof over our heads during cultivation seasons."
Al-'Amour asserted that the targeted room has a total area of (36 m2 ) , and the construction caused 1000 $ .
A massive army force, border guards, and a vehicle from the building and organization department at the civil administration raided the area, the forces encircled the location and prohibited the owner from approaching the targeted room, then dismantled the tin sheets, and loaded them on a truck related to the civil administration.
Before leaving the location, the occupation forces handed a written notice numbered (02230) entitled "Notice of confiscation" for the room, and told the owner that the components will be kept in "Kfar Etzion" colony, then offered in auction after a certain period of time.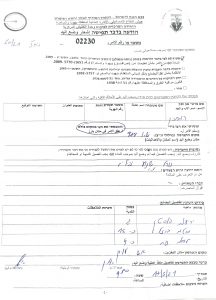 Notice number 02230 for citizen Foad Al-'Amour's room
Noteworthy, the Occupation Authorities carried out the demolition without any preceding notices.