Halt of Work Notices for Three Agricultural rooms in An-Nabi Elyas / Qalqilya Governorate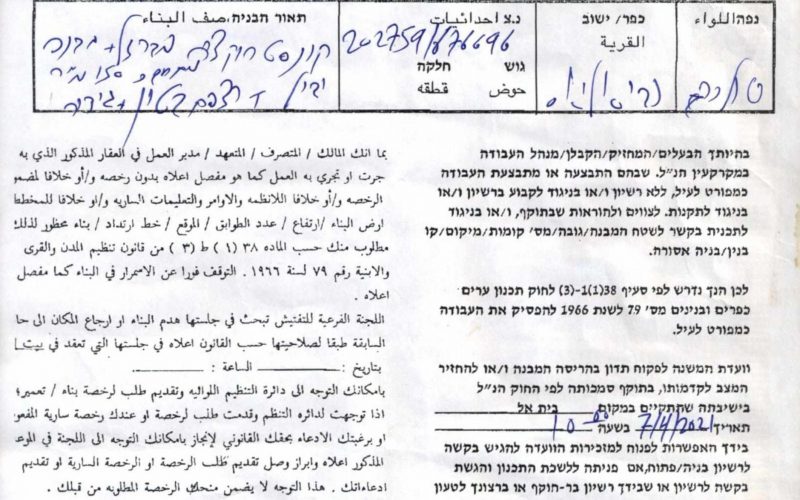 Violation: Halt of Work notices for three agricultural services room.
Location: An-Nabi Elyas village / Qalqilya Governorate.
Date: March 11th 2021.
Perpetrators: The Israeli Occupation Civil Administration.
Victims: Three families from the area.
Description:
Thursday, March 11th 2021, the so called construction officer in the Civil Administration raided the northern side of An-Nabi Elyas village in Qalqilya, and targeted three agricultural rooms with halt of work notices, on the pretext of building without a license.
According to the notices, the occupation set April 7th as the date of the building and organization session in Beit El military court to decide the fate of the structure.
The Following table shows more information about the damages:
| | | | | |
| --- | --- | --- | --- | --- |
| Owner | Family members | Military order number | The targeted facility | Photo number |
| Mohammed Radwan | 9 | | Room built of bricks and a zinc ceiling 16 m2+ a wall | |
| Nael Shraim | 5 | | Room built of bricks and a zinc ceiling 24 m2+ a wall | |
| Abdullah Mas'oud | 8 | | Room built of zinc sheets 12 m2 + metal sheets wall | |
|   | 22 |   |   |   |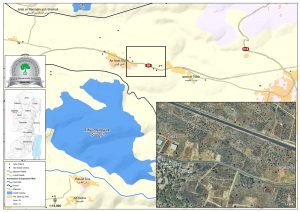 An-Nabi Elyas in Qalqilya governorate is heavily targeted by Israeli Violations, a large group of its structures received halt of work notices. In addition to that, a new segment of bypass 5 divided the village into two parts, the occupation also made a buffer zone both sides of the bypass which devoured vast areas of the village lands.
About An-Nabi Elyas village: [1]
It is located 6 km to the east of Qalqiliya governorate and is edged by Izbbet Al-Tabib and Aslah villages from the east, Arab Abu Fardeh area from the west, Jayyous town from the north and Ras Tayreh from the south.
The village populates 1399 inhabitants (2017 census) that are relative to three main families namely ( Hannun, Khleif and Majd).
Nabi Elyas has a total area of 4435 dunums, of which 123 dunums are considered the village's built-up area. Noteworthy, more than 2200 dunums of the area were isolated behind the apartheid wall and became subject to colonial activities of takeover and expansion.
[1] GIS-LRC