Halt of Work notice for an Agricultural Road in Umm Ar-Rihan village / Jenin governorate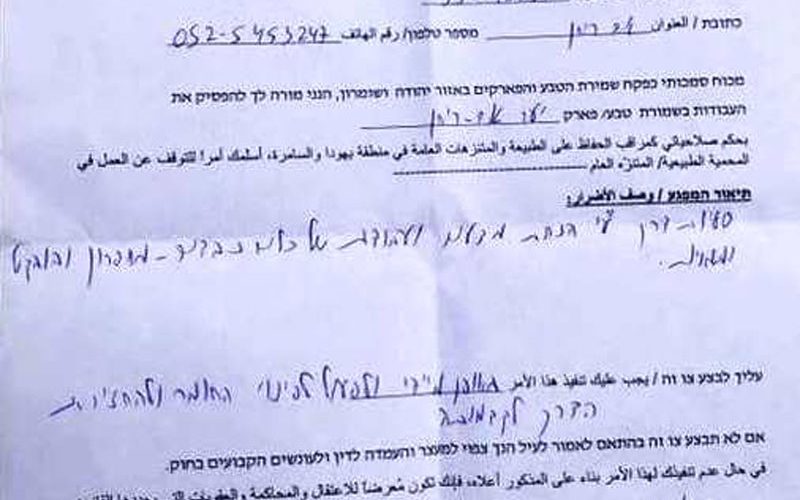 Violation: Halt of work notice for an agricultural road.
Location: Umm Ar-Rihan village / Jenin governorate.
Date: Friday, March 12th 2021.
Perpetrators: Nature Authority – a department at the Israeli Civil Administration.
Victims: Number of families at the village.
Description:
The Israeli Occupation forces accompanied by a vehicle from the nature authority at the Israeli civil Administration raided Umm Ar-Rihan village, which is isolated behind the Apartheid wall south Jenin, and targeted an agricultural road about 800 m long that links Umm Ar-Rihan village to about ten houses on the edge of Omar forests.
The targeted road was being opened by Barta'a municipality, with support from municipalities' fund in order to protect the area from the vicious colonial attack.
Photos 1-3: The targeted road as photographed by the village council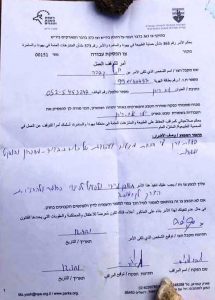 Photo 4: The military order
Village council head Mr.Sa'id Al-Kilani told LRC: "Umm Ar-Rihan village is heavily targeted by the Israeli Occupation , which also prohibits expanding its built up area , or even providing it with services. Rehabilitating the agricultural road was the only way to protect the lands, and delivering services to a small residential area, where some of the houses age more than 80 years old. However, the occupation soon halted work on the road."
Not very far from Umm Ar-Rihan , The illegal colony Shaked is expanding and building more residential units , which changed the area's features and created a new reality.
Umm Ar-Rihan village in 21 m southwest Jenin city and has a total population of 600 people all of which are from Al-Kilani family, the village has a total area of 1200 dunums isolated behind the Annexation and Expansion wall, the Occupation also devours part of its lands for Shaked colony, noting that Umm Ar-Rihan is administratively related to Ya'bad.
The isolated village suffers from services' shortage, it is also blocked by colonies at every side, and physical expansions is prohibited, the occupation imposes restrictions on citizen's movement, in order to add more pressure on them and eventually make them leave the area.