Halt of Work Notice for an Agricultural Project in At-Tawani village / South Hebron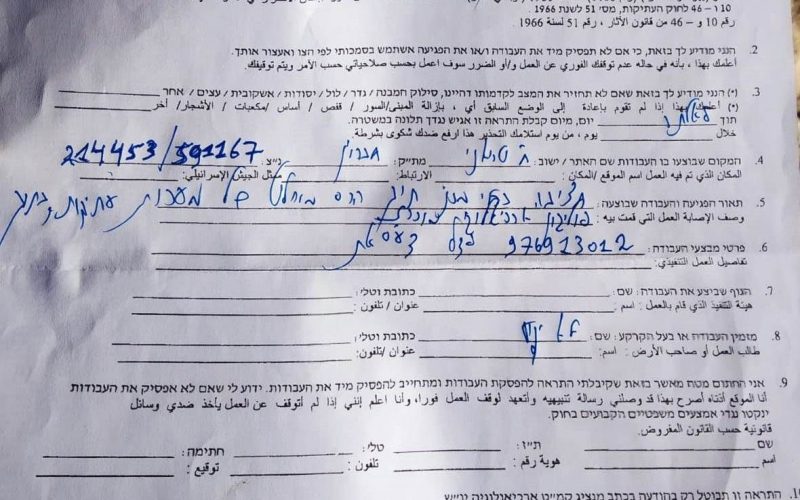 Violation: Halt of Work Notice for an Agricultural Project.
Date: March 29th 2021.
Location: At-Tawani – Yatta / Hebron Governorate.
Perpetrators: The So-Called Antiquities authority/ The Israeli government.
Victims: Citizen 'Omar Raba'e.
Description:
The Israeli Occupation Authorities issued a halt of Work Notice for an agricultural rehabilitation project, on the pretext of assaulting antiquities in At-Tawani east Yatta south Hebron Governorate.
About 4:00 pm in March 29th 2021, a vehicle related to the Antiquities Authority, accompanied by border guards got to the southern part of the village, where a farmer is rehabilitating a plot leveling to plant it.
The Occupation Authorities raided a plot that belongs to 'Omar Raba'e with a total area of (2.5) dunums, the occupation forces stopped the excavations, and tried to confiscate the machinery, but one of the citizens intervened to stop them. The so-Called Antiquities authority wrote a notice entitle "Halting destroying antiquities", and ordered the owner to halt work on the project.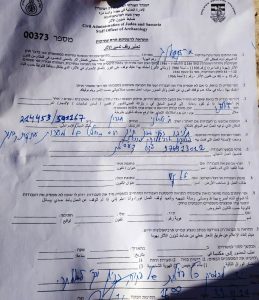 Notice number (00373) issued by the Occupation
Citizen Raba'a continued rehabilitation work in the plot preparing to plant it with olives. Noteworthy, At-Tawani village witnesses continuous assaults from nearby illegal colonies such as "Ma'on" and "Avigal" , the village and its agricultural lands and olive trees are a scene of crime for colonists.
About At-Tawani:[1]
At-Tawani village is located to the south of Hebron city in West Bank, it is only 20 km away from Yatta , and has a population of 250 people. At-Tawani is administrated by a village council, and the village contains a clinic , mosque and school to the eighth class. At-Tawani depends on rainwater for drinking an electricity generator to lighten the village. Surrounded by four settlements and a bypass road , At-Tawani is one of the most vulnerable villages.
[1] GIS-LRC
Prepared by
 The Land Research Center
LRC