Final Demolition Order for an Agricultural Room in Al-Walaja / Bethlehem Governorate
Violation: Final Halt of Work and Demolition Order.
Location: 'Orouq Zunaid – Al-Walaja / Bethlehem Governorate.
Date: March 9th 2021.
Perpetrators: The Israeli Occupation Forces and the so-called civil administration.
Victims: Citizen Ahmed 'Awad.
Description:
Tuesday, March 9th 2021, the Israeli Occupation Forces raided Al-Walaja village, and served a final halt of work and demolition order to citizen Ahmed 'Awad on the pretext of building without a license.
In November 19th 2021, Ahmad 'Awad received a preceding notice ,on the pretext of building without a license. The notice then ordered the immediate stoppage of construction works, and returning the plot to its previous status within 7 days. The following table shows more information about the families:
| | | |
| --- | --- | --- |
| Citizen | threat | Notice number |
| Ahmed 'Awad | Agricultural room | 31564 |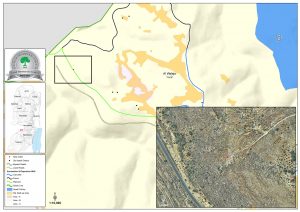 Noteworthy, the village is under a vicious attack by the Occupation,
in order to take over lands and expand Israeli colonies, Its location close to the occupied Jerusalem have been a blessing and a curse . During the past year, 'Uroq Znaid area was targeted with a number of violations, most recently was cutting 70 olive tree aging more than ten years belong to citizen Fawzi Khalifa from Al-Walaja village, who was surprised when he went to his land that the occupation forces destroyed the trees with a hand saw. 
Most of United Nations member countries confirm on the importance of committing to , and protecting human rights , and consider the construction of Israeli colonies illegal. The United Nations also every once in a while, send delegations to conduct observations on Human Rights Violations. On the other hand, the occupation is building colonies in the west bank and encourage young Jews from all around the world to move to them. 
About Al-Walaja:[1]
The village of Al Walaja (diminishing from an area of 17,793 dunums to 2400 dunums due to the greed of the Israeli occupation and its colonial project): From 1948 until today, the Israeli occupation has been practicing land theft on the village of Al-Walaja, 8.5 km southwest of Jerusalem and 5.4 km northwest of Bethlehem. The area of the village was 17793 dunums, of which 11793 dunums were occupied by Israel through the Armistice Agreement with the Jordanian Arab side under British patronage. In 1967, the village of Al-Walaja had 6000 dunums. In 1996, Israeli authorities confiscated 500 dunums of the village for the construction of the bypass road (for settlers). Another 1000 dunums were seized in its southern area for the establishment of the settlement of Gilo over the period of 1969-1997, leaving the village with only4500 dunums of land. That did not stop, the Israeli occupation forces confiscated yet more land by building the Apartheid Wall that looted around 2100 dunums of agricultural land that was planted with olive and almond trees.
[1] GIS-LRC
Prepared by
 The Land Research Center
LRC