Eviction Notice for Birin village / South Hebron Governorate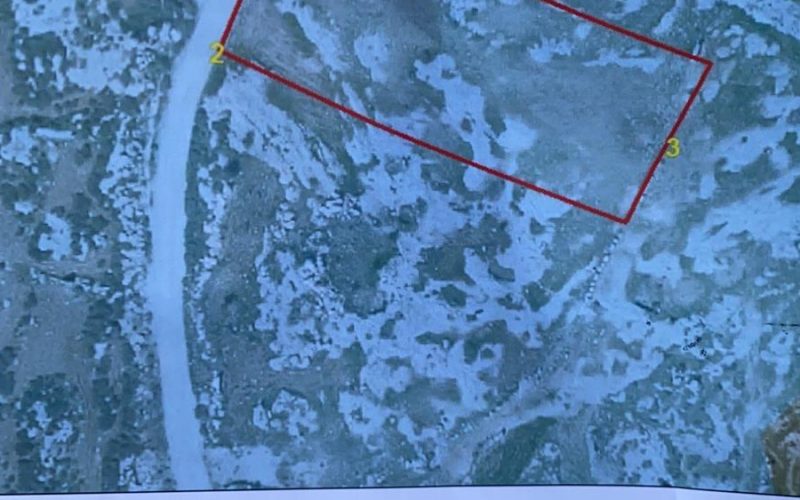 Violation: Eviction notice.
Date: March 3rd 2021.
Location: Birin village / Hebron Governorate.
Perpetrators: The Israeli Civil Administration.
Victims: Citizen Mohammed Az-Zughayyir.
Description:
March 3rd 2021, The Israeli Occupation authorities served an eviction notice for a plot under claims of using a governmental property in Birin south Hebron.
A vehicle related to the civil administration and an army patrol raided the southern area of the village. And the Civil Administration Officer hanged three copies of the notice on the targeted , which  belongs to citizen Mohammed Az-Zughayyir.
The Notice is numbered (001310) issued by "The Israeli Occupation army- The Civil Administration- The responsible on governmental properties – The inspection Central Unit" , entitled "Notice of Eviction" in both languages Arabic and Hebrew, and attached by an aerial photograph that shows the specified location of the plot.
Photos 1+2: Copy of the eviction notice.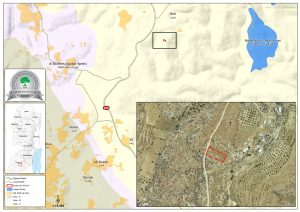 The Occupation Authorities ordered "evicting the plot and returning it to its previous status" within 45 days after the eviction notice issue date. The notice threatens in case the owner did not carry out the eviction, the occupation authorities will carry out the operation and make them pay all the costs.
Eviction means (Uprooting plants and trees, demolish what is built of retaining walls, walls, agricultural rooms and cisterns..etc.) . The notice was issued on the pretext that the plot is a state property , the occupation authorities already confiscated the land long ago , and the owner is not allowed to exploit it any way.
The targeted plot is 1.2 dunums and located to the southern part of the village, surrounded by a metal fence and planted with 20 olive saplings.
The Occupation authorities and the so called civil administration confiscated the machineries in "Kfar Etzion" , or "Bani Hevar colony, and the owners are required to pay expensive fines in case they wanted their properties back.
Birin hamlet:[1]
It is located to the southwest of Bani Na'im village and is inhabited by 300 people. The hamlet is edged by Bani Haiver colony from the east and the bypass road no. 60 from the west. Residents of the area were expelled from Negev area and now depend on agriculture and livestock husbandry as main sources of income. The hamlet accommodates one only primary school (1st- 7th grades). Birin (two water wells) was named after two water wells founded in the area.
[1] GIS-LRC
Prepared by
 The Land Research Center
LRC