Demolition and Halt of Work Notices Served in Battir/ Bethlehem Governorate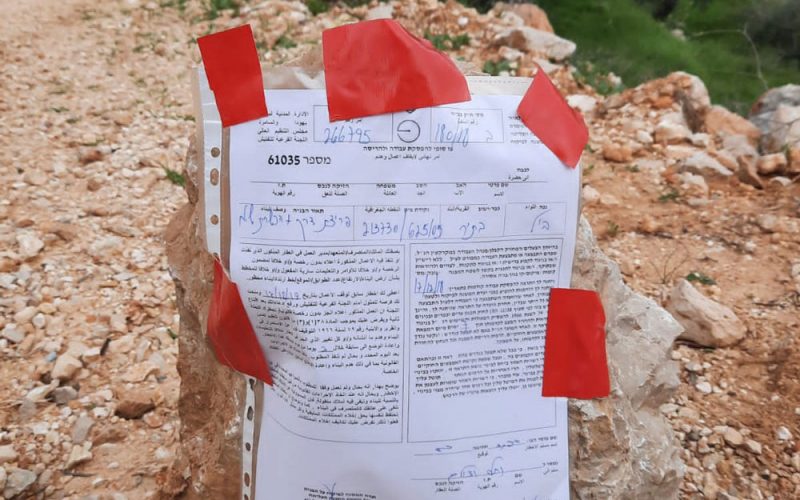 Violation: Final Demolition Order for opening and rehabilitating an agricultural road.
Location: Abu Al-Harith area in Battir town / Bethlehem Governorate.
Date: March 16th 2021.
Perpetrators: The Israeli Occupation Civil Administration and Army.
Victims: people of Battir town.
Description:
Tuesday, March 16th 2021, the Israeli Occupation raided Abu Al-Harith area in Battir town, and notified an agricultural road on the pretext of building without a license.
Lara Samara, a member of MELAD offices in Battir municipality told LRC the following:
"An agricultural road was opened to provide access to 600 dunums of agricultural lands. It is worthy mentioning, the new road provides access to the whole village, it is 2 km * 6 m, and Battir municipality is working fast to complete the road".
Noteworthy, the occupation issued a notice for the road in December 17th 2018, and the case was discussed in the subcommittee session in Beit El Military court, The subcommittee decided to ordere the immediate stoppage of construction works and demolish what was built within 7 days from the notice date.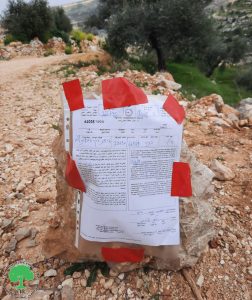 Photos 1-3: The notified road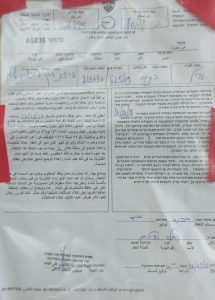 Photo 4: the Demolition notice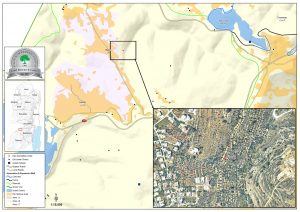 Battir town is going under a vicious attack by the occupation, colonists are trying to confiscate vast areas of land to expand their colonies. Recently, colonists set up caravans or tents in Battir farmlands, and the occupation forces are always present at the area to provide them with protection, while the real landowners are not allowed to approach or access their own lands.
Land Research Center researcher during documenting this case, notices colonists assaults and vandalizations , including herding in agricultural lands which results in destroying crops for Palestinian farmers. Theses practices are a part of the larger Israeli displacement policies, that makes life intolerable in some area to push its residents to immigrate.
About Battir: [1]
The village is located 7km to the western side of Bethlehem. It is edged by the occupied lands of 1948 from the north and west, al-Walaja village from the northeast, and Husan village from the south.
Battir has a total population of 5117 people until 2014 and has a total land area of 6681 dunum, 832 of which are built-up area.
Oslo Accords divided the lands of Battir as follows:
1467 dunums are classified as area B
5214 dunums are classified as area C
Prepared by
 The Land Research Center
LRC