Colonists Demolish a Shack East At-Taybeh town / Ramallah governorate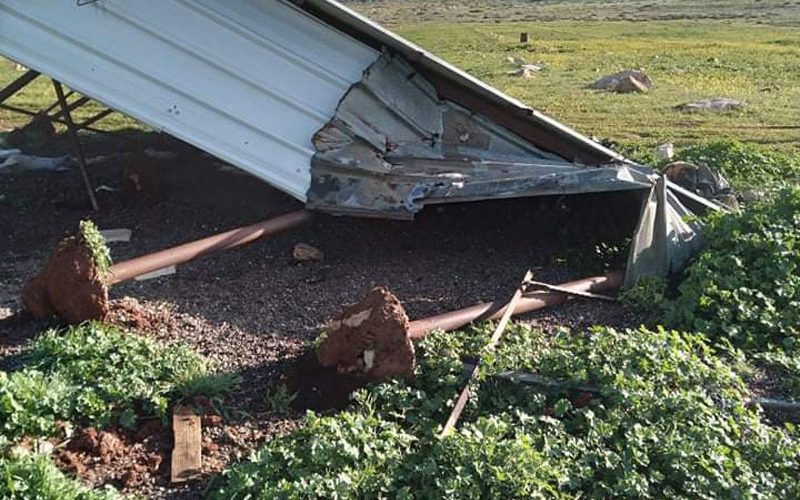 Violation: Demolishing a Shack.
Location: Al-Ka'abneh community – East At-Taybeh/ Ramallah governorate.
Date: March 11th 2021.
Perpetrators: Colonists of an Israeli illegal outpost east At-Taybeh.
Perpetrators: Ghalib Al-Ka'abneh.
Description:
A group of colonists from an outpost illegally constructed east At-Taybeh raided Al-Ka'abneh Bedouin community on Thursday March 11th 2021, and demolished a residential shack with a total area of 24 m2, and belong to citizen Ghalib Al-Ka'abneh , colonists took advantage of the fact that Bedouin families are absent currently due to seasonal migration (Bedouins migrate into lower areas during the rainy winter weather) .
Ghalib Al-Ka'abneh told LRC:
"Colonists demolished the shack which I reside with my family during summer time, noting that I support a family of 5, 3 of them are children, but I fixed it in order to confirm my right to the place on the face of the Occupation's cruelty."
Noteworthy, Israeli colonists who live at the outpost east At-Taybeh, nearby Rimonim colony, carry out daily attacks against Palestinians at the surrounding rural and Bedouin communities in the eastern suburbs of Ramallah. LRC Israeli Violations Field monitoring team documented number of attacks during the last few months, represented in sabotaging crops, raiding postures, and closing off postures and agricultural lands.
Affected Citizen also said: "We depend on Cattle breeding for living, we migrate to  At-Taybeh plain lands during summer for postures , while during winter we live at Aj-Jiftlik, and some of our residences stay at their place during the process."
However, in early 2020, a group of radical colonists established an outpost 200 m south east "Rimonim" colony. The outpost became a base for carrying out attacks against Palestinian farmers.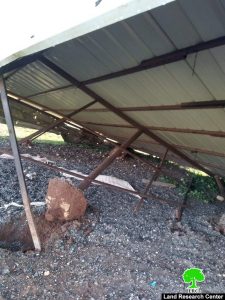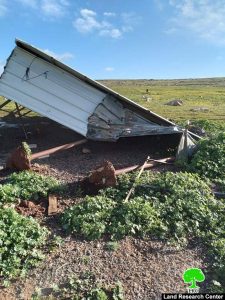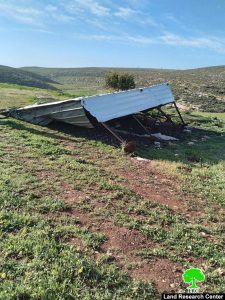 Photos 1-3: The targeted Barracks
At-Taybeh village:
15 km east Ramallah, At-Taybeh is surrounded by Deir Jarir (north) , Silwad (west) , Al-Mu'arejat (east) , and blocked by "Kokhav Hashaher" and "Rimonim" east on Rammun village lands.
At-Taybeh is inhabited by (1340) people , in 2017 census.
At-Taybeh has a total area of 22,969 dunums , of which 732 dunums are a built up area.
The occupation confiscated (1,738) dunums for the following purposes:
Israeli settlement took over (354) dunums as the following:
| | | | |
| --- | --- | --- | --- |
| Settlement name | Establishment year | Area in dunums | Number of settlers 2018 |
| 'Ofra | 1975 | 25 | 3235 |
| Rimonim | 1977 | 329 | 745 |
Bypasses 449 and 458 devoured (1,087) dunums.
Israeli military camps devoured (297) dunums.
Oslo accords divided the area as the following:
B area : (8,010) dunums.
C area: (14,959) dunums.