Colonists Attack 'Awad Family in She'ab Al-Butum South Hebron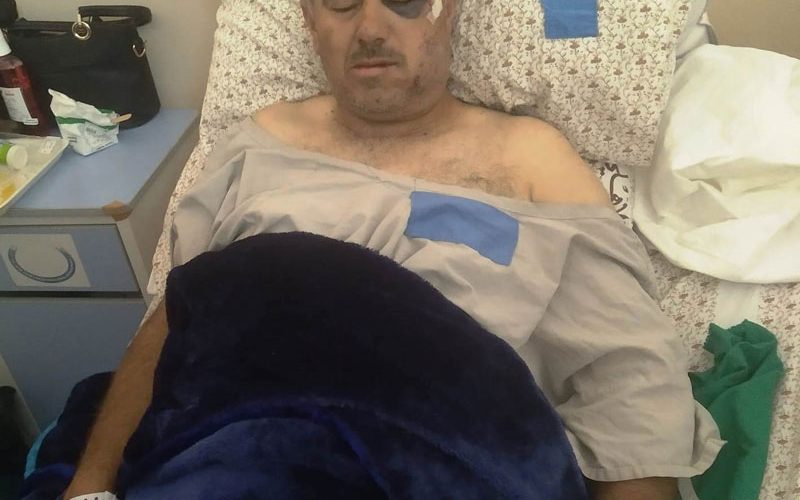 Violation: Colonists' assaults.
Date: March 13th 2021.
Location: She'ab Al-Butum – Yatta / Hebron Governorate.
Perpetrators: "Mitzpe Yaer" Colonists.
Victims: Family of Sa'id 'Awad.
Description:
A group of colonists attacked family of Sa'id 'Awad , beat them with batons , and destroyed their vehicle , while they were at their farm lands in She'ab Al-Butum village , east Yatta town South Hebron.
Saturday morning, March 13th 2021, Citizen 'Awad , his wife and six children went to their plot to spend some family time out at the nature , as they own 300 dunums there.
After reaching the location around 8:30 am, we saw a colonist named "Bossy" that we know very well herding nearby our lands, coming from "Mitzpe Yaer" colony, which is about 500 m, south east the village.
Sa'id 's Wife, Rima 'Awad (38) told LRC:
"Illegal colonist "Bossy" tried to take over our plot through planting it several times, my husband filed a complaint to the Israeli police and they wanted a prove, so we took a picture of him herding at our land while my husband was calling the police.
The fanatic colonist was also making a call, and a few minutes later colonists with batons, and some of them were masked showed up, and started yelling and throwing stones, while one of them hit me in the back and took my phone, and the rest joined him to hit me after I fell to the ground."
'Awad asserted: "Our children were at the car, expect for my eldest son Sanad, colonists smashed the car glass, while children were inside and attacked them then ran to the colony"
After the attack, Rima called some activists and relatives nearby, who tied to provide first aid, an ambulance related to the Palestinian red crescent took the injured to Princess 'Alya governmental hospital. After examination, it turned out that the wife Rima has bruises and wounds, while the husband Sa'id (48) has fractures in the left jawline in addition to wounds and bruises around his body, he was transmitted to Al-Ahli hospital where he had a surgery for his Jawline, and he is still under treatment.
Photo 1: Citizen Sa'id Awad at Al-Ahli Hospital
Rima 'Awad said that colonists are trying to seize lands at the area belong to her husband and his brother, the family submitted a complaint to the Supreme court, and proved that they own the land. The Plot was later planted with olives, and the rest were planted with grain and winter crops, colonists still raid the plot and herd their cattle inside and attack the owners to force them to leave.