An Israeli Colonist Runs Over a Number of Heads of Sheep in 'Ein Al-Hilweh/ Tubas Governorate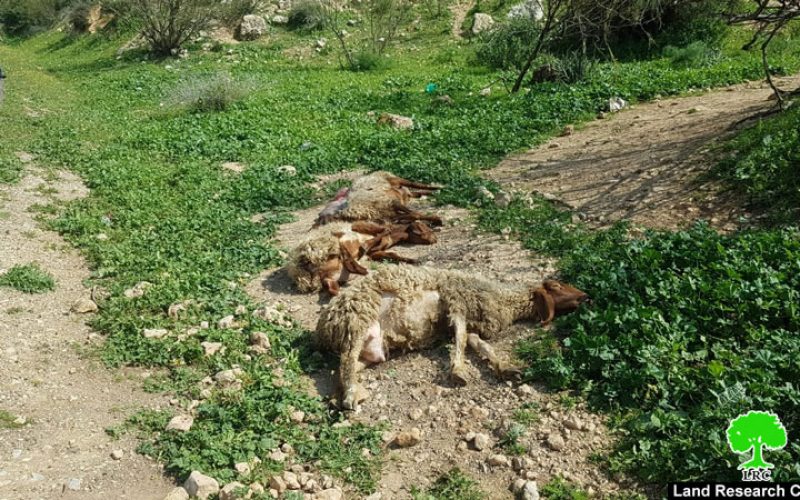 Violation: Running over a number of Sheep heads.
Location: 'Ein Al-Hilweh area in the northern Jordan Valley.
Date: March 2nd 2021.
Perpetrators: an Israeli Colonist.
Victims: Citizen Yehia Al-Ka'abneh.
Description:
Monday morning, March 2nd 2021, an Israeli illegal colonist ran over a herd at the Jordan Valley area east Tubas, where colonists are spending most of their time in assaulting Palestinians and seizing their lands.
Monday morning, a Colonist intentionally ran over a sheep herd passing road Alon in the Jordan Valley, noting that the road links many illegal Israeli colonies and outposts. As a result of the attack, four sheep were killed and seven were injured, the herd belongs to Yehia Al-Ka'abneh form Ein Al-Hilweh area east Tubas.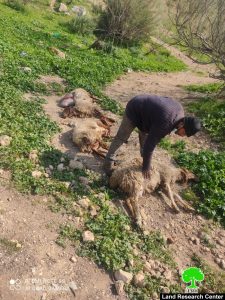 Photos 1-5: pictures from the scene of the attack
Mr Mahdi Daraghma, head of Al-Malih village council told LRC the following:
"During the past few years, many attacks targeting herds in the Jordan Valley were reported, including stealing heads of sheep or cows and blackmailing herders for money to get them back. the occupation forces also leave Military Trainings leftovers in postures, many sheep were poisoned or killed in expulsions after walking over an explosive body."
Cattle breeding is a main source of income for a large number of families at the Jordan Valley, and targeting this sector by the Israeli Occupation forces and colonists worsened the economical situation, and deprived residents from their right to a decent life at the plot they inherited from their fathers.