Setting A Dangerous Precedent, New Type of Notices Issued for a plot in Jayyous / east Qalqilya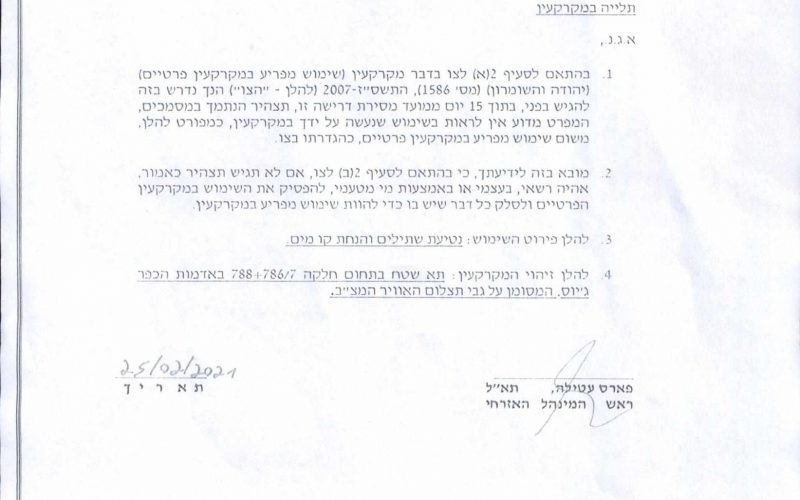 Violation: New type of military orders targets olive trees in private lands.
Location: Jayyous town / Qalqilya governorate.
Date: February 25th 2021.
Perpetrators: The Israeli Civil Administration.
Victims: Heirs of the late Hassan Saleem.
Description:
Thursday, February 25th 2021, The  Israeli Occupation Authorities represented by the Civil Administration raided Al-'Aqed area east the Annexation and Expansion Wall on Jayyous lands, and targeted a private plot that belongs to heirs of Hassan Saleem with a military order signed by Civil Administration head (Fares 'Atelah) in the West Bank, entitled (an order for a plot (misuse of a private land) number (1586),5767-2007) The Occupation authorities said that the land owner have been abusively and excessively using his land.
The notice targets pieces (786) (788) (787) of natural block 3 in Jayyous lands. The notice was left near by a stone at the location . According to the attached map the targeted plot is has a total area of 30 dunums. Noteworthy, The owner planted the plot with olive saplings and installed a water line, the occupation authorities through the notice ordered the owners to "Prove that the land haven't been abusively used within 15 days" . Noting that the owners have legal papers prove that they own the land and have the right to exploit it.
The targeted lands were returned to the Palestinians with an Israeli supreme Court resolution, after being ate up by the Annexation and Expansion Wall in 2012. However, in 2014 the plot was replanted with olives and figs. Despite the court resolution, the occupation forces uprooted the trees on the pretext that the plot is classified as Miri lands or (governmental properties). Early this year, a part of the plot was planted with 100 olive saplings aging 4 years old with support from the Agricultural Development Association , but the occupation is once again targeting the land.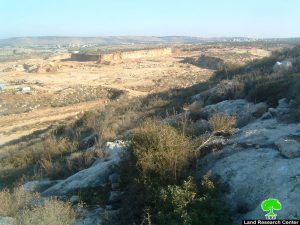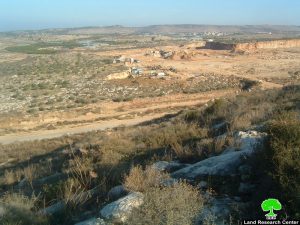 Photos 1-2: The targeted plot nearby the Quarry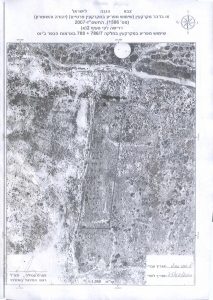 Photos 3-5: The military order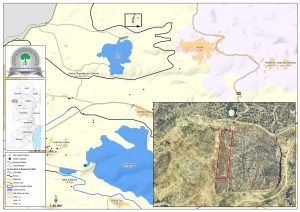 The Occupation is on the other hand expanding Tzufim colony on parts of the town lands, Israeli bulldozers are working day and night to ravage and devour tens of dunums of Palestinian lands in Jayyous and nearby villages.
 Jayyous:[1]
Jayyous is located 10 km to the northeast of Qalqiliya city and is edged Falamya village from the north, Zufin colony the west, Khirbet Jabir from the east and Izbet Al-Tayeb from the south.
Its population mounts to 3731 (2014 census) people who live on a total land of 10,925 dunums, of which 418 dunums are considered the village's built-up area.
Israeli colonies confiscated 724 dunums from Jayyous lands. Zufin colony that was established in 1990 is founded on confiscated lands from the village.
The apartheid wall is founded on 1045 dunums from the area and was reported to isolate 6,496 dunums behind its construction.
The lands of Jayyous hamlet are classified according to Oslo Accords as the following:
3128 dunums (29%) are classified as area B
7707 dunums (71%) are classified as area C
[1] GIS-LRC