Illegal Colonists Run over a Herd in Jib'it / Ramallah Governorate
Violation: Colonists ran over a herd with a car.
Location: Khirbet Jib'it – Al-Mughayyir village / Ramallah governorate.
Date: February 4th 2021.
Perpetrators: colonists of an illegal outpost In Jib'it.
Victims: Farmer Fadel Abu 'Alya.
Description:
Colonists carry out frequent assaults against farmers in Khirbet Jib'it in Ramallah governorate. During the past three years, Colonists attacks in the Khirbet have escalated against postures and the Jib'it spring which has a special significance at the area.
This morning of Thursday, February 2021, illegal colonists ran over a herd in a pastoral area nearby a rural community in Jib'it. The attack resulted the killing of two heads of sheep, while three others were severely injured. Noteworthy, the targeted herd belong to farmer Fadel Abu 'Alya.
Photo 1: Khirbet Jib'it
Farmer Fadel Abu 'Alya told LRC:
"I've been living in Khirbet Jib'it for more than 50 years, and I support a family of 9, I depend on cattle breeding to provide for my family mostly in postures about 400 m away from my community. Thursday morning, two colonists riding Tractors ran over my herd then ran away, I rushed to the sheep trying to save them but two of them were already dead, and other three were fractures. I called the village council head Faraj An-Na'asan who in turn contacted the Liaison office, and after one hour the Israeli police showed up, but as usual the Israeli police doesn't open serious investigation in this case."
Noteworthy, this is not the first time Israeli colonists carry out an attack on Farmer Fadel Abu 'Alya and his herd. In 2019, a group of colonists stole heads of sheep that belong to Fadel, and in 2020 colonists poisoned postures which resulted in killing few sheep, Fadel Abu 'Alya filed several complaints to the occupation but nothing was done to protect him.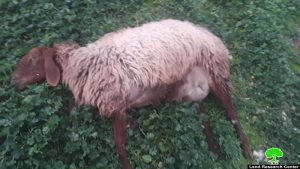 Photo 2: The dead sheep – after the attack
Three years ago, Israeli illegal colonists established an outpost on the rubble of an Israeli military camp, the outpost is expanding rapidly, and colonists escalated assaults against farmers in Al-Mughayyir area in order to empty the area for future colonial expansion.
 It is noteworthy that the "Khirbet Jib'it" area is located to the east of the village of Mughayyir in the Ramallah and Al-Bireh governorate, where citizens depend on agriculture and cattle breeding for living. The community's citizens originate from the village of Al Mughayyir, specifically from the Abu Alia family. They have official documents confirming their ownership of the land in which they had been living for 50 years.
Prepared by
 The Land Research Center
LRC