A Demolition Notice Targets a Shed in Nahalin village- Bethlehem governorate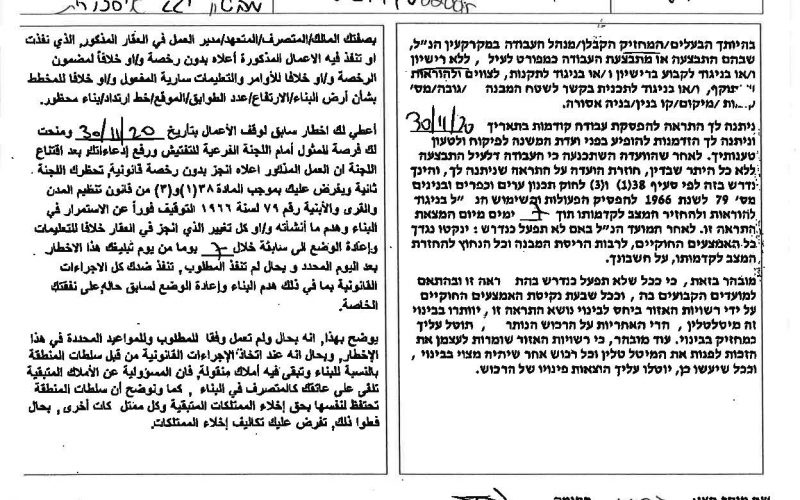 Violation: Final Demolition Notice targets a shed.
Location: The Nasbah area – Nahhalin Town / Bethlehem Governorate.
Date: 14/02/2021.
Perpetrator: The so-called Israeli Civil Administration.
Victims:  family of Ahmed Shakarneh.
Description:
Sunday morning, February 14th 2021, and under the protection of the occupation forces, the so-called Inspection Legal Committee at the Israeli Civil raided Nahhalin town and gave citizen Ahmed Shakarneh a halt-of-work and demolition notice for his shed on the pretext of building without a license.
The Notice Ordered the immediate stoppage of Construction works and return the location to its previous status 7 days after receiving the final notice.
The following table shows more information about the owner:
| | | | | |
| --- | --- | --- | --- | --- |
| Name | Number of family members | children | Type of the building | Notice number |
| Ahmed Shakarna | 6 | 4 | Shed | 31570 |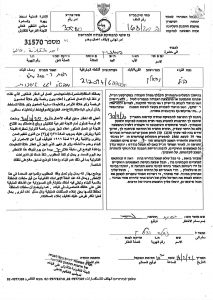 Image No. 1: The notice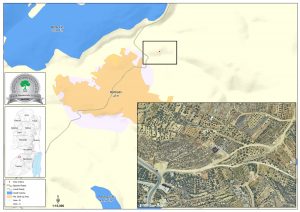 In a statement to LRC field researcher, M. Jihad Funun, a member of the MILAD committee which was established by LRC as part of an awareness and advocacy project provided to a number of Palestinian municipalities in the West Bank, said the following:
" The situation is getting worse in the town, and the occupation is watching farmers to prevent them from using their lands, and we, in the MILAD office, are constantly communicating with citizens to inform them of what is going on and to educate them and direct them to object on Israeli military orders. Israeli colonies spread over the town's lands and its environs and it is clamping down on us, in order to restrict physical expansion at the town , and this may cause in the future internal migration of the villagers because there is no space left for construction due to the continuous Israeli seizure of their lands".
Nahhalin:[1]
The village is located 9 km to the south west of Bethlehem and 3.5 km to the east of the armistice line of 1949. It is edged by Bitar Illit and Hadar Bitar colonies (north), al Khader (east), Wadi Fukin and the armistice line (west), and number of Israeli colonies (Rush Tzorim, Ealazr, Allon Shevut, and Ezyon) (south).
The village's total area is 17250 dunums including 496 dunums of built-up area, inhabited by 7460 people according to the PBS statistics of 2007. Israel has confiscated 2988 dunums of the village lands for colonial expansion purposes. 5 colonies inhabited by more than 30,000 colonists reside over the village lands. They are all part of Ezyon colonial compound which hold 11 colonies within.
[1] GIS-LRC