The Occupation cut down Hundreds of Forest and Olive trees in 'Einun Area / Tubas Governorate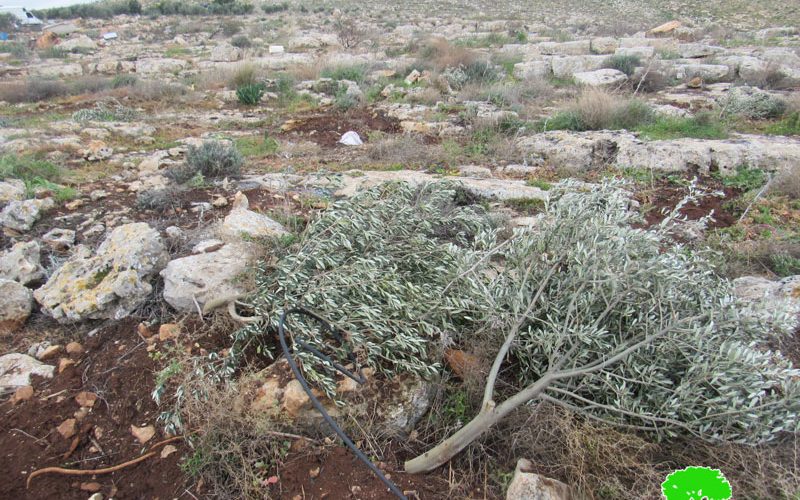 Violation: Cutting hundreds of olive trees.
Location: 'Einun area / Tubas Governorate.
Date: January 27th 2021.
Perpetrators: The Israeli Civil Administration.
Victims: People of the area.
Description:
In the early morning hours of Wednesday January 27th 2021, Massive army forces accompanied by the Responsible on Governmental Properties at the Civil Administration raided 'Einun area east Tubas, and completely closed off As-Sahel area , and prohibited farmers and citizens from entry . Using an electric saw , the occupation troops cut down 350 forest trees planted on a 35 dunums area , of which 150 are Acacia trees , and 200 pine trees. (According to LRC estimations).
The Occupation troops also cut and sabotaged (64) olive trees aging nine years old  from a plot belongs to Nemr Masa'ed , that the occupation claims is declared as a "Governmental Property". Noteworthy, the Occupation Authorities gave Citizen Al-Masa'ed an eviction notice on the plot on the pretext that it is a governmental property late 2014.
The Palestinian Ministry of Agriculture , with funding from the Arab Fund for environment protection under project of Greening Palestine late 2014 , planted forest trees on  vast areas of lands in the Jordan Valley especially Umm Kbaish and Einun areas , in order to beautify the area and attract tourists. Following the project, the Occupation announced most of the area "Governmental Properties" , and issued eviction and closure notices on large parts of the area's lands.
'Einun was inside the occupation's target area , especially natural block 58 , piece 18 , known as Al-Marzeya block , and natural block 57 piece 5 known as Kharab Hamoud , most of these lands were planted with trees , in late 2014 , and early 2015 many of the trees were uprooted by the so-called governmental properties officer.
Photos 1-8: The targeted trees
The Legal Department at Tubas Governorate submitted a petition to the Israeli Supreme court, but it was refused in 2020, and the court decided to carry out the demolition.
Noteworthy, Khirbet Einun is located 4 km east Tubas and it is considered a part of it, The Khirbet is inhabited by several Bedouin families , and live a basic live depending on cattle breeding and agriculture as a main source of income, most of agricultural lands in Khirbet Einun are considered closed military zones by the occupation.