The Israeli Military Occupation ravages and confiscates 110 olive seedlings in Salfit Governorate of the West Bank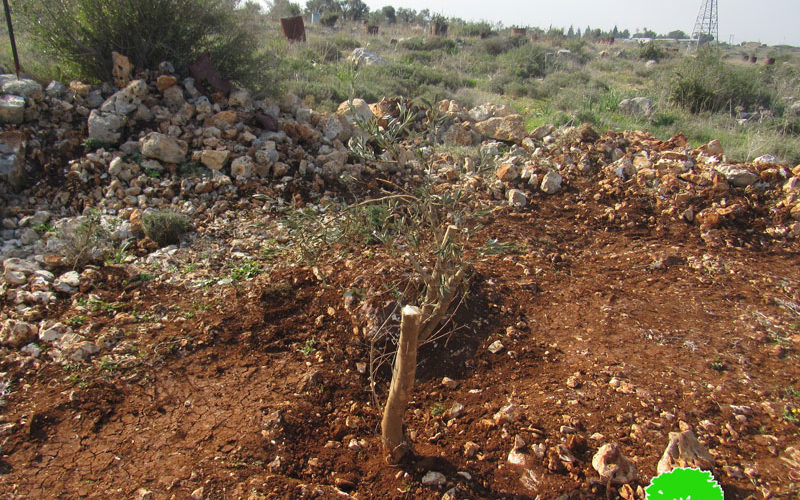 Violation: ravaging and confiscating olive trees    
Date:  01/01/2021
Location: Haris village/ Salfit governorate
Perpetrators: Inspection Sub-Committee- Civil Administration
Victims:  farmer Wael Sultan
Details:
The Israeli Military Occupation Forces raided on Friday 01/01/2021 Haris village, north Salfit governorate and vandalized an olive groove. The attack was carried out on a 7.3 dunums parcel planted with olive trees in the area of "Al-Ta'erat", West of the village. The military bulldozer accompanying the force uprooted 110 olive seedlings (aged five years) and confiscated them into an unknown side. The force also damaged a 300-meter fence that surrounded the vandalized parcel. Noteworthy, the land is owned by farmer hasan Sultan, who has previously received a military order of evacuation from Israel's Property Commander. The notification sent on June 25, 2020 under the number (01001) ordered the owner to "evacuate the land and restore its previous status within a period of no more than 45 days on the claim that it is a state property". For more information, click this report link)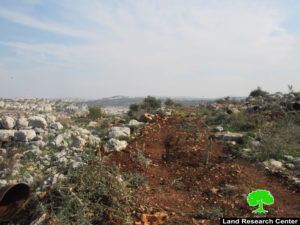 Photos 1-7: sings of the uprooting attack on the parcel
The aggrieved farmer told Land Research Center the following:
" I appointed a lawyer to object to evacuation order, but Israel-related courts rejected my plea. The occupation has been planning to take over our lands to expand the nearby Revava settlement, whose settlers always harass and attack us"
According to LRC field data, the attacked land is located within the area targeted by the occupation with appropriation for expansionist reasons.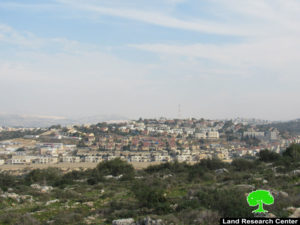 Photo 8: Revava settlement
About Haris:[1]
7 km to the northwest of Salfit governorate, Haris is located with a total land area of 8769 dunum, of which 190 dunums are the village's built-up area. Haris is surrounded by the villages of Deir Istiya from the north, Kifl Haris from the east, Kfar ad-Dik and Bruqin from the southwest and Qarawat Bani Hassan from the west.
It has a total population of 3740 people according to the census of Palestinian Central Bureau of Statistics for 2009. Those people hail from the following families: Abu Atta, Dawoud, Salamih, Sultan, Shihada, Souf, Faz', Awwad, Qasim, and Klaib. The Israeli occupation confiscated 3631 dunums from the village as follows :
Israeli colonies confiscated 2672 dunums as detailed in the below table
| | | | |
| --- | --- | --- | --- |
| colony | Year of establishment | Confiscated area\dunum | Number of colonists |
| Kiryat Netafim | 1982 | 188 | 384 |
| Revava | 1991 | 269 | 703 |
| Burkan | 1981 | 177 | 1207 |
| Burkan Industrial | 1981 | 1346 | — |
| Ariel Industrial | — | 692 | — |
| Total |   | 2672 | 2294 |
726 dunums were confiscated to open the bypass roads numbers ( 505, 4765, 5506)
The apartheid wall confiscated 233 dunums for its establishment. Upon its completion, the wall will isolate 7135 dunums
According to Oslo Accords, the lands of Haris are classified as follows:
631 dunums are classified as area "B"
7815 dunums are classified as area "C"
[1] GIS-LRC