Eviction order targeting lands in Haris / Salfit governorate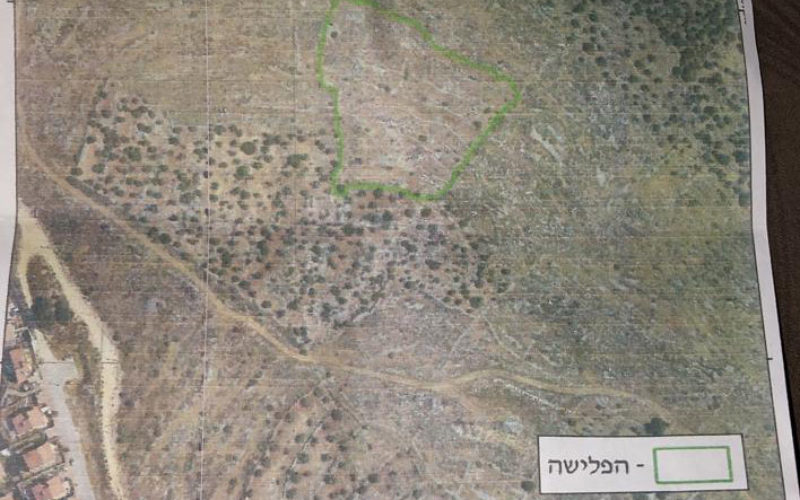 Violation: An eviction notice targeting a 7 dunums plot.
Location: Haris illage / West Salfit.
Date: June 25th 2020.
Perpetrator : Governmental properties department- The Israeli Occupation Civil Administration.
Victims: Farmer Wael Sultan and his family.
Description:
The Israeli Occupation Forces accompanied by an officer from the civil administration raided Haris village in Thursday June 25th 2020 , and hanged a notice on a siege that surrounds a 7.3 dunums plot planted with olives aging 7 years old , and belongs to farmers Wael Sultan.
Reportedly , the targeted plot contains a total of (110) olive trees , and according to notice number (01001), the occupation gave the owner 15 days to evict the plot and uproot the trees.
Activist Issa Souf told LRC:
"Settlers of "Revava" have a new scheme , to devour a plot and open a park close to the settlement , the new park will be named "Matan Yahoo" after an extremist leader who lived in "Kiryat Arba'a".
The targeted plot is planted with olives , and was before that a wheat field , illegal settlers were carrying out frequent attacks in an attempt to force the owners to leave the land , or stop visiting it , the attacks are particularly intense and regular in olive harvesting season and against olive trees , as olive trees are a symbol of Palestinian resistance."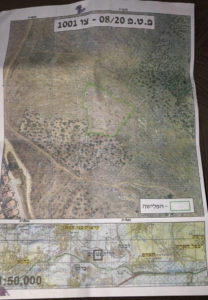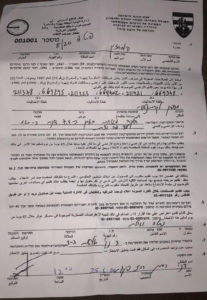 Photos 1-2 : Notice number 01001 and the attached map
Photos 3-5: The targeted plot.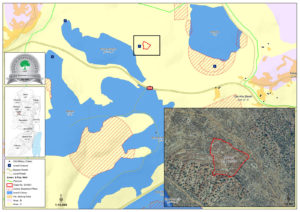 About Haris:[1]
7 km to the northwest of Salfit governorate, Haris is located with a total land area of 8769 dunum, of which 190 dunums are the village's built-up area. Haris is surrounded by the villages of Deir Istiya from the north, Kifl Haris from the east, Kfar ad-Dik and Bruqin from the southwest and Qarawat Bani Hassan from the west.
It has a total population of 3740 people according to the census of Palestinian Central Bureau of Statistics for 2009. Those people hail from the following families: Abu Atta, Dawoud, Salamih, Sultan, Shihada, Souf, Faz', Awwad, Qasim, and Klaib. The Israeli occupation confiscated 3631 dunums from the village as follows :
Israeli colonies confiscated 2672 dunums as detailed in the below table
| | | | |
| --- | --- | --- | --- |
| colony | Year of establishment | Confiscated area\dunum | Number of colonists |
| Kiryat Netafim | 1982 | 188 | 384 |
| Revava | 1991 | 269 | 703 |
| Burkan | 1981 | 177 | 1207 |
| Burkan Industrial | 1981 | 1346 | — |
| Ariel Industrial | — | 692 | — |
| Total |   | 2672 | 2294 |
726 dunums were confiscated to open the bypass roads numbers ( 505, 4765, 5506)
The apartheid wall confiscated 233 dunums for its establishment. Upon its completion, the wall will isolate 7135 dunums
According to Oslo Accords, the lands of Haris are classified as follows:
631 dunums are classified as area "B"
7815 dunums are classified as area "C"
[1] GIS-LRC