Israeli Settlers cut off and kill 120 olive seedlings in Salfit governorate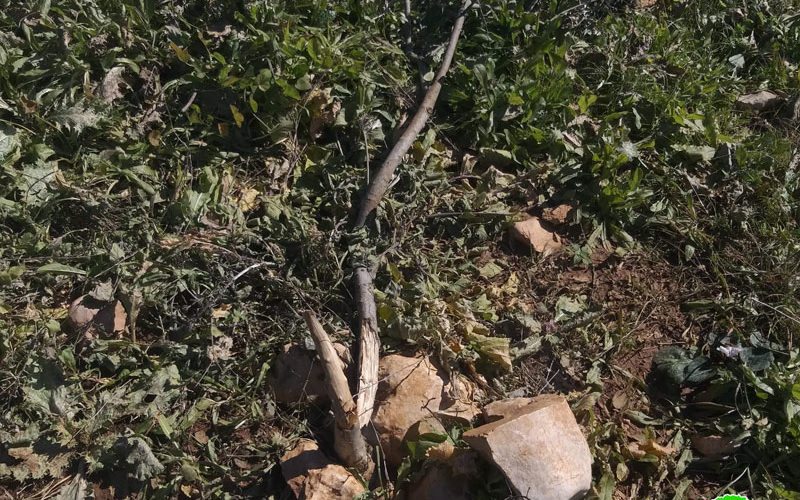 Violation: cutting off and killing olive trees   
Date:  22/01/2021
Location: Daher Suboh/ Salfit governorate
Perpetrators: Settlers of the Israeli outpost located in the area
Victims: Two Palestinian farmersJamal and Abdallah Ahmad
 Details:
On Friday of January 22, 202, a group of radical settlers from the outpost founded illegally on lands from Daher Suboh village sneaked into an olive grove and sabotaged 120 olive trees aging seven years. The attacked parcel is only 80 meters away from the outpost and has a total area of 16 dunums owned by farmers Jamal and Abdallah Ahmad.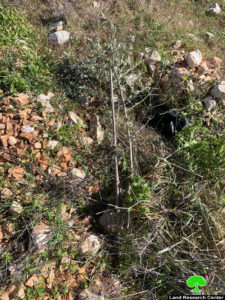 Photos 1-6: the sabotaged trees
The settlers were reported to also attack an agricultural room founded in the targeted parcel. They shattered the windows of the room and stole some agricultural equipment that were stored there.
It should be indicated that this this not the first attack of its kind in the area. The affected farmer Jamal Ahmad told Land Research Center the following:
"My brother and I own 16.5 dunums in Daher Suboh. I take agriculture as a supporting source of income; I provide for a five-member family including two children, while my brother provides for eight members including three children. In 2011, Palestinian Agricultural Relief Organization provided reclamation services for our parcel. In 2014, we planted our land with olive and almond trees; in the same year, settlers cut off and killed the seedlings. In 2018, we planted 120 olive trees aging five years, and today settlers sabotaged them. Despite all attacks, we will remain steadfast and resilient"
Daher Suboh area extends over a total area of 300 dunums that the Israeli Occupation Authorities exert efforts to take it over for it has a strategic location and a historical significance.
The outpost founded on lands of Daher Suboh was established in 2014. Settlers opened roads and ravaged massive areas of fruitful trees to initiate construction
The area has been reported to witness demolition of 13 water cisterns and other agricultural rooms. Violations followed and escalated with time in attempt to force Palestinians out of the area.