Six Market Stalls Demolished in 'Anin Village / Jenin Governorate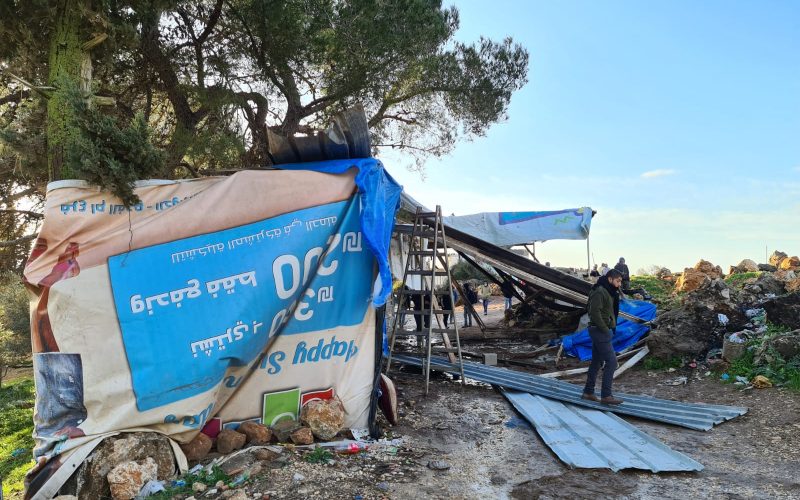 Violation: Destroying market stalls.
Location: 'Anin village / Northwest Jenin.
Date: January 17th 2021.
Perpetrator: The So called building inspector at the Israeli Civil Administration.
Victims: Six families from the village.
Description:
In the early Morning hours of Sunday January 17th 2021, a massive army force raided southwest 'Anin village nearby the Annexation and Expansion wall , the Occupation Forces supervised by the construction inspector at the Israeli Civil Administration implemented a demolition operation that targeted around Six market stalls using hand tools such as (hammers and Axes) , the fanatic troops also intentionally damaged goods inside the stands , such as snacks and vegetables.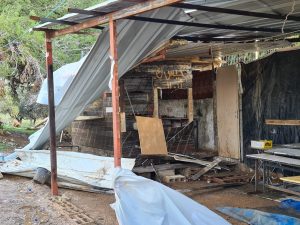 Photos 1-5: The targeted facilities
In Dec 17th 2020,  Land Research Center Field officer reported notification of 11 facilities and a market stall at the same location , under a notice entitled "Announcing the intention of Demolition" , the Occupation gave the owners only 7 days to object , 6 of the notified facilities were demolished lately, while the rest were dismantled by the owners. (For more information read LRC Report on the case: Arabic , English.
The Following table shows more information about the violation:
| | | | |
| --- | --- | --- | --- |
| number | Affected Citizen | Number of family members | The targeted facility |
| 1 | 'Assim 'Issa | 2 | Market stall built of woods and plastic sheets used as snacks stand (4 m2) |
| 2 | Radi Khdour | 5 | Market Stall built of zinc sheets used as a snacks' stand  (4 m2) |
| 3 | Mohammed Khdour | 2 | Market Stall built of zinc sheets used as a drinks stand (4 m2) |
| 4 | Mahmoud Khdour | 3 | Market Stall built of zinc sheets used as a hot drinks stand (4 m2) |
| 5 | Ossaid 'Issa | 6 | Wood Kiosk used as a drinks stand (4 m2) |
| 6 | Yazeed 'Issa | 1 | Market Stall built of zinc sheets used as a vegetables  stand (4 m2) |
|   |   | 19 |   |
One of the Victims, Radi Khdour told LRC:
"After receiving the notice we assigned a lawyer from Jerusalem Legal Aid and Human Rights department to submit a petition, but the occupation refused the submission and decided to demolish the stands due to their location nearby the Annexation and Expansion Wall, noting that the stalls provided a source of income for us during these difficult times."