Private agricultural land encroached by settlers in the town of Bani Nai'm, south of Hebron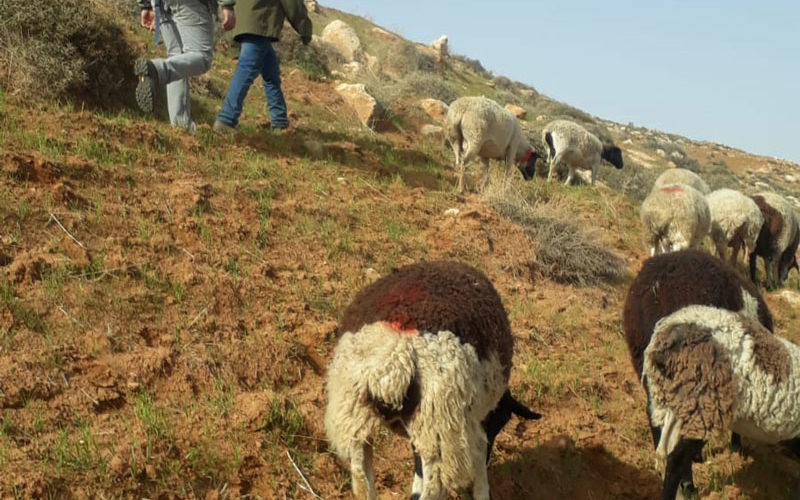 Violation: settlers encroach agricultural land.
Violation date: 28/01/2021.
Location: Bani Nai'm town / Hebron Governorate.
Perpetrators: settlers from the colony of Bani Hefer.
Affected Party: Citizens from the town
The violation details:
The Public Relations Department at the municipality of Bani Nai'm reported that on Thursday January 28, 2021, settlers from the settlement of "Bani Hefer" which was established on confiscated lands from the town,  planted forest seedlings  on a plot of land adjacent to the settlement and owned by citizens of the Al-Hajuj family.
Mr. EmadAmre, the director of public relations at the municipality, explained to LRC's researcher that he saw groups of settlers from Bani Hefer arriving at the land of the "Umm Halsa" area, south of the town, and planting it them with forest seedlings.
Mr. Amre reported that he saw a number of settlers' vehicles at the site, indicating that groups of settlers came from outside the colony, and participated in settlement activity, which is the cultivation of a private plot of land owned by the citizens, whose area is 10 dunums and located outside the fence of the colony.
In related events, Mr. Amre went on to say that the settlers residing in the colonial outpost  on the "Hamra" hilltop, south of the town of Bani Naim, often, graze their kettle in an area totaling 50 dunums of land planted with winter crops. As a result, losses were inflicted on the following farmers and land owners:
The heirs of Muhammad Mawas.
The heirs of Mahmoud Mawas
The heirs of Attia Al-Khadour.t
The heirs of Khalil Hassan Abdullah.
In certain times, farmers and landowner were able to dismiss the settlers along with their kettle out of their fields and take pictures of them.
Photos 1-4: Settlers 'herd of livestock on citizens' lands 
A glimpse on Bani Nai'm town[1]:
The town of BaniNaim is located 7 km to the east of the city of Hebron, and it is bordered to the north by the town of Sa'ir, to the west by the city of Hebron, to the east by Khallat al-Misfrah (MasaferBaniNaim), and to the south by al-Buwaib.
Its population is 24,628 according to the census of 2017.
Its total area is 23,309 dunums, of which 3,913 dunums are a built-up area.
At least 330dunums  of Palestinian owned land was seized for the construction of road No. 60.
According to Oslo agreement the town's land is classified as followed:
– Areas classified as A (15,368 dunums).
– Areas classified as B (4,089 dunums).
– Areas classified as C (3,852 dunums).
[1] GIS-LRC