Hundreds of Olives and Almond Saplings Uprooted from Deir Ballut groves \ Salfit governorate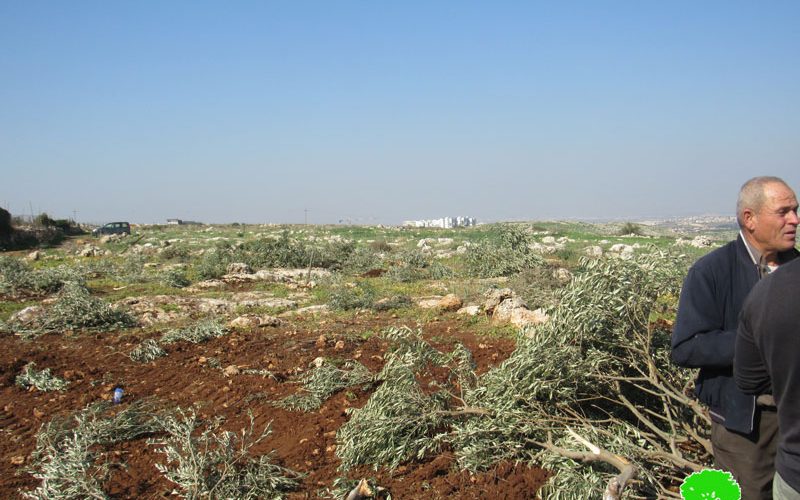 Violation: Uprooting and Sabotaging 1280 trees.
Location: Deir Ballut town\ Salfit Governorate.
Date: January 7th 2021.
Perpetrators: The Israeli Civil Administration.
Victims\ Affected family : 6 families from the town.
Description:
Thursday , the Israeli Occupation Forces accompanied by five (JCB) bulldozers raided the western area of Deir Ballut town , and carried on uprooting and sabotaging 1280 almond and olive trees aging between 5-12 years old , the attack targeted groves belong to 6 families from Deir Ballut , the Israeli Occupation claims that these lands are Israeli governmental properties , noting that owners\farmers received notices from the so called governmental properties officer late summer of 2020 , the notices of eviction  gave the owners 45 days to empty their groves.
The following table shows more information about the targeted groves:
Affected citizen

Family members

Targeted area in dunums

Number of the targeted trees

olives

almond

figs

Meta'ab Musa

8

 13

190

0

0

Nesfat Musa

5

17

108

0

0

Mohammed Musa

8

11

210

11

6

Rateb Musa

5

19

380

0

7

Ghazi Musa

6

30

257

6

5

Omar Musa

9

60

95

5

0

 

41

150

1240

22

18
Photos 1-10: Following uprooting hundreds of trees from Palestinians' groves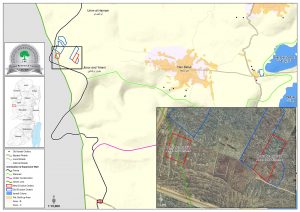 Farmer Mohammed Musa told LRC:
"About 5 years ago , we rehabilitated number of plots we own at Khallet Al-'Abahra area , in order to create a subside source of income and to protect our land from colonialism , we planted hundreds of olive trees , and built retaining walls around the plot to protect it which cost a lot of money .Before that the plot used to be planted with wheat , after the construction of the Annexation and Expansion Wall in 2002 , we were prohibited from cultivating the plot under security claims , we recently got back to it, and we have legal papers that prove we own the land, the occupation claims that this is a governmental property but this is our inherited land."
Farmers after receiving the notices got legal aid from Jerusalem Legal Aid and Human Right Center , and after several court sessions the occupation decided to carry out the eviction.
Removal Notices for more trees:
The So called governmental properties officer delivered notices for other olive groves , only 50 m from lands previously assaulted , the notices are attached by Aerial Photographs, and ordered eviction within 45 days.
The following table shows more information about the targeted groves:
Affected citizen

Family members

Area in dunums

Notice number

The targeted plot

Ahmed Damra

7

13

150 olive saplings \ water harvesting cistern 12 m3\ 3 tanks (1m2 for each)

Na'imDamra

9

Fahmi Musa

9

10

Contains 90 olive saplings

total

25

23

23

 
About Deir Ballut:
24 km west Salfit, Deir Ballut is surrounded by Rafat village (north), The green line – occupied territories of 1948 (west), Kafr Ad-Deek village (east), Al-Lubban Al-Gharbi village (south).
 Deir Ballut is populated 3,870 people in 2017 census. The town's people are from several families, namely: Tufaha, Khair, Abdullah, Qassim, Qaroush, Mesha'l, Mustafa, Musa and Hadrous.
Deir Ballut has a total area of 11,339 dunums , of which 503 dunums are a built up area.
Deir Ballut is popular with rain-fed agriculture such as (Armenian cucumber, Ladies fingers, garlic and others), in addition to olives and wheat.
Deir Ballut contains a water spring in Wadi Al-Ein area, and the town's people depend on the National Israeli water company,  in addition to rain water harvest cisterns for daily use water.
The Israeli occupation devoured 436 dunums for the following purposes:
"Har Alei Zahav" illegal settlement was established in 1983 on 190 dunums of confiscated lands, it is populated 3119 settlers (The Israeli ministry of interior – 3 January 2019).
Bypass 446 devoured 127 dunums.
The segregation wall is 1,189 m long, it ate up 119 dunums and blocked 895 dunums. In case the plan of the segregation wall was completed , it will become 6,695 m lone, and eat up another 670 dunums , in addition to blocking 2,613 dunums.
[1] GIS-LRC