Demolition of an Agricultural structure in Taqu / Bethlehem Governorate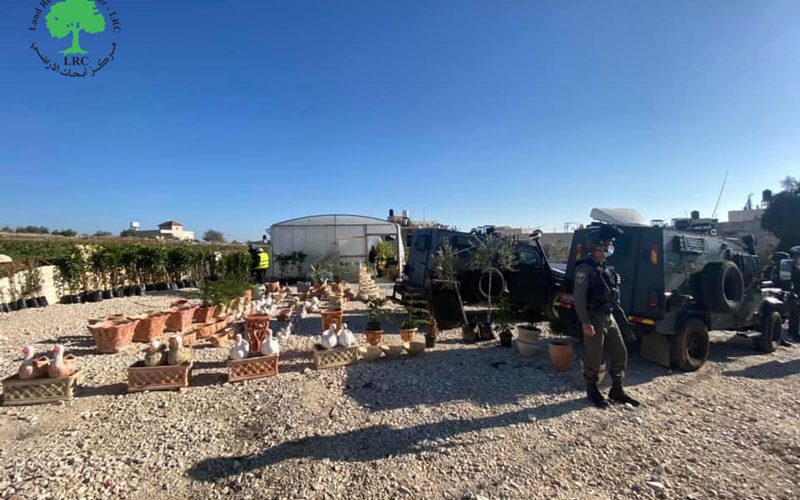 Violation: The Occupation demolished an agricultural structure.
Location: Khirbet Ad-Deer – Taqu' / Bethlehem governorate.
Date: January 12th 2021.
Perpetrators: The Israeli Occupation forces.
Victims: Citizen Saleem Hamdan.
Description:
Tuesday , January 11th 2021 , The Israeli Occupation Forces raided Taqu' town and dismantled a structure used as a nursery and belongs to citizen Saleem Hamdan from Taqu' , on the pretext of building without a license.
Noteworthy, The Occupation served a notice to the nursery in January 10th 2021 , the owner was not given a chance to object , even though he has all his papers prepared. 
A relative of the affected, Citizen Ibrahim Hamdan told LRC:
"The nursery was built on my Uncle's plot, and in Oslo accords the plot is located in area classified B, and a part of it is in area classified C, we also prepared papers and filed for a license , but the occupation did not do anything."
A glimpse on Tuqu' town: 
The town of Tuqu' is located 5 km to the south east of Bethlehem.  Its population is 8767 according to the latest census of 2017. The total area of ​​the village is 199,634 dunums, of which 1627 dunums are built up area.
About 1570 dunums of the Town's land have been confiscated for the construction of Jewish colonies as followed:
1,033 dunums were confiscated for "Tekoa" colony, established in 1977, and inhabited now by 1,116 settlers;
-93 dunums for  "Mashuki Dragot" settlement, which was established in 1991;
345 dunums for "Nokdim" colony, which was established in 1982, and nowadays inhabited by 646.
99 dunums for the bypass roads No. 356/3157/3670.
The lands of the village are classified according to the Oslo Agreement as followed:
Area B (2%) comprising 3,954 donums;
Area C (98%) comprising 195,680 dunums of which 46,841 dunums are a nature reserve.
Prepared by
 The Land Research Center
LRC