Colonists carry Out an Attack on a plot in As-Shuyukh town / Hebron Governorate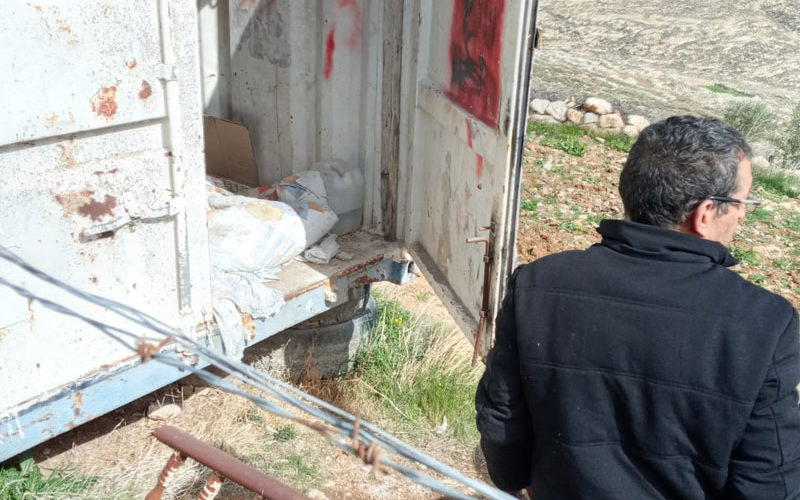 Violation: colonists Attack targets an agricultural land.
Date: January 26th 2021.
Location: Al-Majales – Ash-Shuyukh town / Jenin governorate.
Perpetrators: illegal Colonists.
Victims: Citizen 'Ayed Al-Mashni
Description:
Citizen 'Ayed Al-Mashni (60 years) said that colonists raided his plot at Al-Majales area east As-Shyukh , and sabotaged his properties.
Al-Mashni says that he owns a plot (20 dunums) that he started rehabilitating about 7 years ago , and planted it with olives and almonds , he also built a cistern , and set up a caravan to be used as a storage foe agricultural tools.
Al-Mashni asserted: "I went to my plot in Tuesday, January 26th 2021 and noticed the evidence of the assault on water reservoirs and the caravan , colonists turned the reservoirs upside down and pierced them , and sabotaged the water network."
Fanatic colonists also smashed the door lock of the caravan, and got inside and destroyed all my properties including the windows.
Photos 1-4: assault on a plot belong to 'Ayed Mashni
Al-Mashni also pointed out that "Asfer" colony is only 100 m away from the targeted plot, and its illegal colonists carry out continuous assaults represented in cutting trees, sabotaging wells and barbed wires.
Other than the assaults,  one of the colonists in Asfer is a herder and every now and then he herds his sheep at the plot , which damages the plants.
Ash-Shuyukh:[1]
6 km north east Hebron, Ash-Shuyukh is surrounded by Sa'ir (north), Ras At-Taweel (west) and Arab-Ar-Rashaydeh (east).
Ash-Shuyukh has a population of (12,052 ) people in 2017.
The town has a total area of 21879 dunums , of which 830 dunums are the town's built up area.
The occupation confiscated 194 dunums for the following purposes:
| | | | |
| --- | --- | --- | --- |
| Settlement name | Establishment year | Area in dunums | Number of settlers |
| Mitzad Shimon | 1991 | 194 | N.A |
Oslo conventions division of the area:
A area : (9212) dunums.
B area: (5799) dunums.
C area: (6868) dunums.
[1] GIS-LRC