Israeli Authorities notify structures with stop-work in Hebron governorate
Violation: serving stop-work orders.
Date: December 14, 2020.
Location: Zanuta hamlet/ Hebron governorate.
Perpetrator: The Israeli Civil Administration.
Victims: residents of the area
Details:
The Israeli occupation forces issued a stop-work notices for residences and other structures in Zanuta hamlet, southeast Ad-Dahiriya town -Hebron governorate. The notifications said that the targeted structures were "unlicensed constructions
Eyewitness said that a vehicle from the Israeli Civil Administration raided the hamlet, and the so called Construction Inspector drafted the notices, hung them to the walls of structures, and took photos of the locations before they had left.
 According to military order, " all construction works must be immediately halted".It assigned  December 30, 2020 as the session of the Planning Committee in Beit El court to consider the status of the notified structures.
The notifications targeted the following properties and their owners:
Affected citizn

Family

Type of structure

Total area\m2

Year of est.

No. of military order

Remarks

Faris Samamreh

12

Residence

100

2018

Made of fortified tin plates

Amer At-Til

7

Residence

50

2000

Tent and metal arches

Suliman At-Til

 

6

Barn

90

2018




Shelters 80 sheep

Residence

50

2010

Made of tin plates

Kitchen

20

2012

Shade cloth

Mohammad At-Til

8

Residence

40

2014

Cement blocks and tin plates

Zanuta clinic and council

—-

Structure

50

2020

Made of fortified tin plates

Basim Khdayrat

4

Residence

20

2018

Rocks and tin plates

Hamad Khdayrat

8

Barn

100

2019

Shelters 100 sheep

Shehdeh Khdayrat

2

Residence

20

2018




Tin plates

Barracks

80

2018

Shelters 60 sheep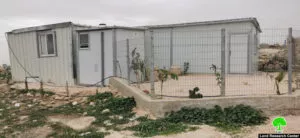 Photo 1: Zanuta clinic and council
Photos 2-6: som of the affected structures
About Zanuta:
It is located to the south of Ad-Dhahiriya town in Hebron governorate. It populates 200 residents, who live in tents and tin-roofed structures and work in agriculture. Zanuta is edged by Metarim colony from the east, the bypass road number 60 from the north and west and the apartheid wall from the south. 
The village is now administered through a village council approved by Palestine Ministry of Local Government in 2019.