Barn demolished and confiscated in Khirbet As-Semya west As-Samou' Hebron Governorate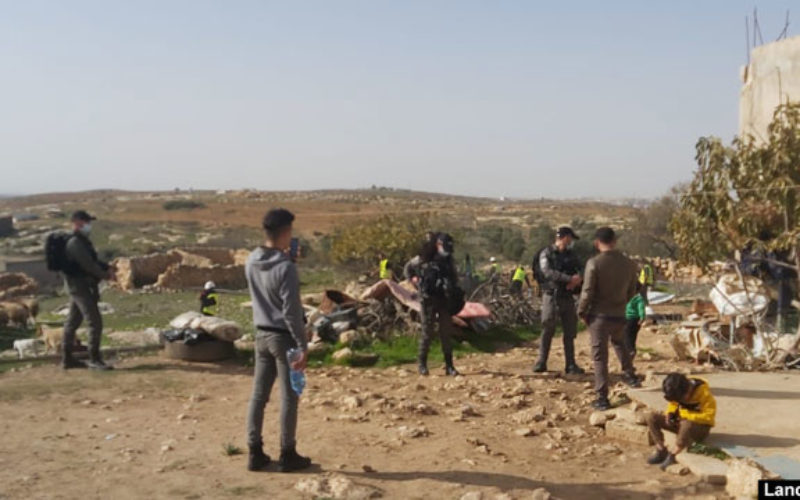 Violation: Demolishing and confiscating an agricultural facility.
Date: Dec 8th 2020.
Location: Khirbet As-Semya – Al Samou 'town / Hebron governorate.
Perpetrator: the so-called Israeli Civil Administration.
Victims: Citizen Ghayad Al-Salamain.
Description:
Tuesday, December 8th 2020, the Israeli occupation authorities demolished and confiscated an agricultural facility belong to Ghayad As-Salameen, under the pretext of building it on an archaeological area, in Khirbet Al-Samiya of Al-Samou in the Hebron governorate.
As-Salameen told LRC the following:
 "An army force accompanied by a vehicle from the building and organization department of The so-called Israeli Civil Administration, along with workers from an Israeli civil company, stormed the village at around 9 am and headed to my house at the western part of the village. Having arrived there, the occupation forces closed off the site, and the workers began to remove the sheep from a barn, then they carried out the demolition."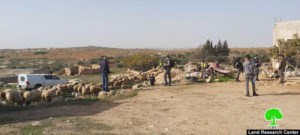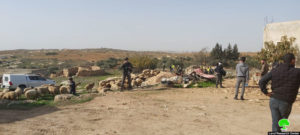 Photos 1-3:  shots from the demolition
The targeted barn is 100 m2 , contained 25 heads of sheep , built in 2015.
On Nov 11th 2020, the occupation authorities issued a notice entitled "Halt destruction of Antiquities," in which it claimed that As Salameen had built the barn on an archaeological area.
As Salameen supports a family of 8 (6 of which are children) , and works as a taxi driver. The cost of building the barn reached about 15 thousand shekels (about 4000 $).
Khirbet As-Semya:
As-Semya hamlet is located to the west of As-Samou' village, and is bordered by bypass 60 (east), and "Otniel" illegal settlement (north). Noteworthy, the occupation authorities confiscated the steel sheets that are parts of A-Semya school, at the beginning of this Year.