IOF demolish a Cistern east Halhul/ Hebron Governorate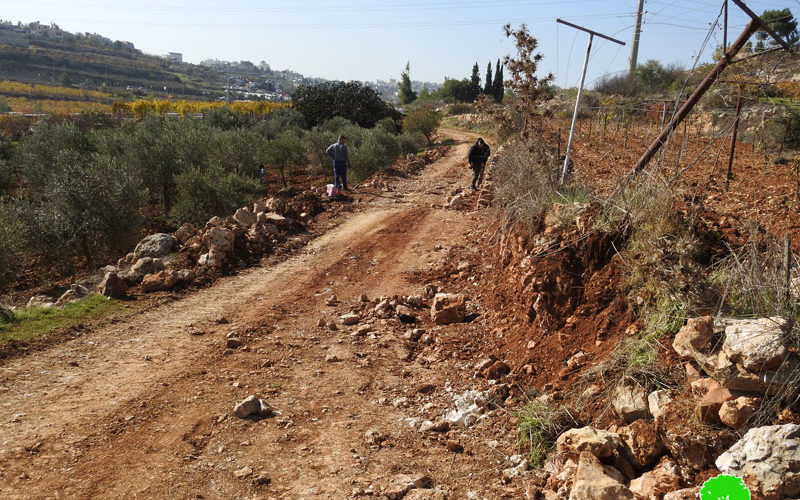 Violation: demolishing a water harvesting cistern.
Date: November 30th 2020.
Location: Al-Jumjuma – Halhul / Hebron Governorate.
Perpetrator: the so-called Israeli Civil Administration.
Victims:  Citizen Hamdi Abido.
Description:
Monday, November 30th 2020, the Israeli occupation authorities demolished a cistern that belongs to Hamdi Abido, under the pretext of building it without a permit, in the Al-Jumjuma area, east Halhul, Hebron governorate.
'Abido told LRC the folowing:
"The Israeli Occupation forces accompanied by the building and Organization department in the civil administration raided the plot and demolished the cistern , buried construction materials nearby , and ravaged vast areas around the cistern to fill it with soil."
The targeted cistern is under construction, and built of reinforced concrete , it was supposed to have a total storage capacity of (150 m3) , and used for irrigation . Noteworthy, Abido owns a 2 dunums plot , planted with almonds and other crops.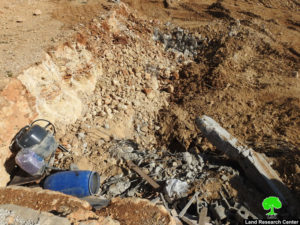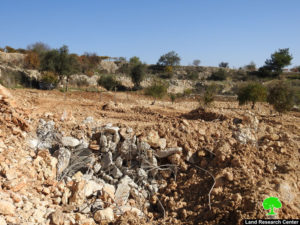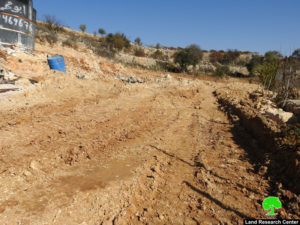 Photos 1-3: after demolishing 'Abido's cistern
The latest demolition and vandalism were preceded by another demolition at the hands of the occupation authorities on 23/11/2020 against an agricultural facility that was built above the demolished cistern. A notice of (demolition and removal ) dated 15/11/2020 was issued against the facility (agricultural room) within 96 hours , the notice was issued in reference to military order number 1797 of 2018.
'Abido pointed out that the cost of building the well and agricultural facility reached 70 thousand shekels, abpout (20 thousand dollars).
Moreover, after the big digger was unloaded from the trailer and began to move towards the target cistern through a narrow road it destroyed a 70 m long stone retaining walls built on both sides of the road owned by citizen Jamil Muhammad Ibrahim Salman, and vandalized a grape field owned by  citizen  Fathi Ata Khamis.
Picture 4: the vandalized retaining walls