Halt of Work Notice for a house in Jannata town \ Bethlehem governorate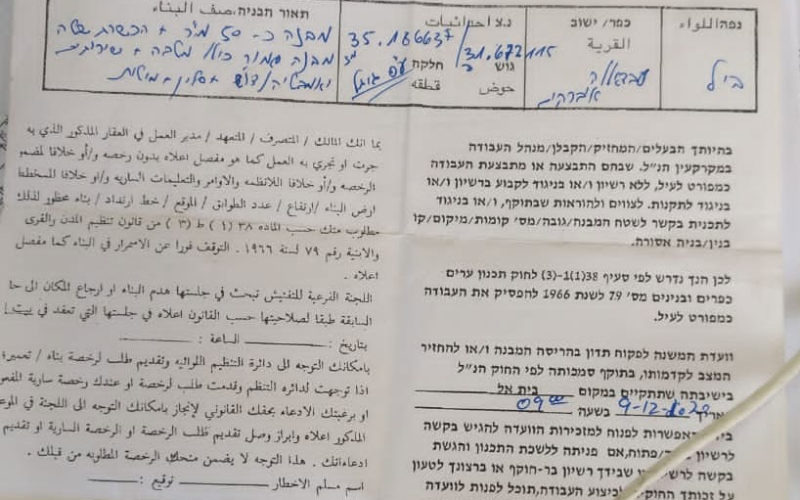 Violation: Halt of Work Notice for a house.
Location: An-Najmat area – Jannata town \ Bethlehem governorate.
Date: November 15th 2020.
Perpetrators: The Israeli Occupation Forces and Civil Administration.
Victims: Citizen Ahmed Sanad.
Description:
A vehicle from the Israeli Civil Administration Protected by the Occupation forces raided Jannata town on Sunday November 15th 2020 , and ordered the immediate stoppage of works on a house belong to Ahmed Sanad on the pretext of building without a license.
Ahmed Sanad told LRC the following: "I received a halt of work notice for my house (60m2) which was being constructed in my 3 dunums plot, I prepared a legal file containing the necessary ownership documents and filed it to the bodies responsible."
According the notice, the occupation's so called subcommittee will hold its session in Dec 9th 2020 , to decide the fate of the structure.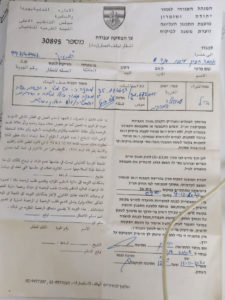 Photo 1" Halt of Work notice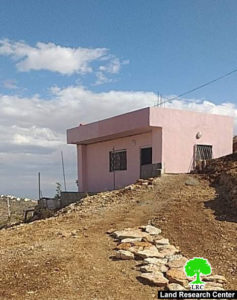 Photo 2 : The targeted house
An-Najmat area is heavily targeted by colonists under the protection of the occupation forces. Fanatic colonists also built an illegal outpost in Khallet An-Nahleh nearby the notified house , and they are trying to annex it to Guch Etzion settlement cluster in order to implement their project "The Great Jerusalem".
MILAD office member in Jannatah municipality Nasri Suliman told LRC: "The occupation took advantage of the lockdown imposed around the world including the Palestinian territories to achieve colonialist project , through imposing de facto , cultivating Palestinian farmer's lands while they are in quarantine, or seize land to build or expand outposts.
Most of Jannata lands are not available for construction , and the occupation is imposing its control and rejects construction licenses applications applied by Palestinians , those lands are the only space available for construction in Jannata , this is a part of the occupation's policies that aim to empty Palestinian lands.
The Israeli courts approval of demolition notice is only a reflection of the occupation's racism and colonialist agenda.
About Jannata:[1]
4.5km to the south of Bethlehem governorate, Janata is edged by Khallet Hamad and Hindaza from the north, Khallet AL-Haddad from the west, AL-Freidis and Jib Adthib from the east and Tuqu', ALdavid and Nikodim colonies from the south.
The village populates 6983 inhabitants (census of 2014). It has a total area of 11887 dunums, of which 90 dunums are built-up area.
Colonies founded in the area confiscated around 281 dunums of the village's lands. Aldavid looted 13 dunums and Nikodim seized 118 dunums.
The classifications of Janata lands according to Oslo Accords:
1233 dunums are classified as area "A"
3312 dunums are classified as area "B"
6212 dunums are classified as area "C"
1130 dunums are classified as "Natural Reserves"
[1] GIS-LRC