Colonists set up a Shack in Marah Salah area / Battir- Bethlehem governorate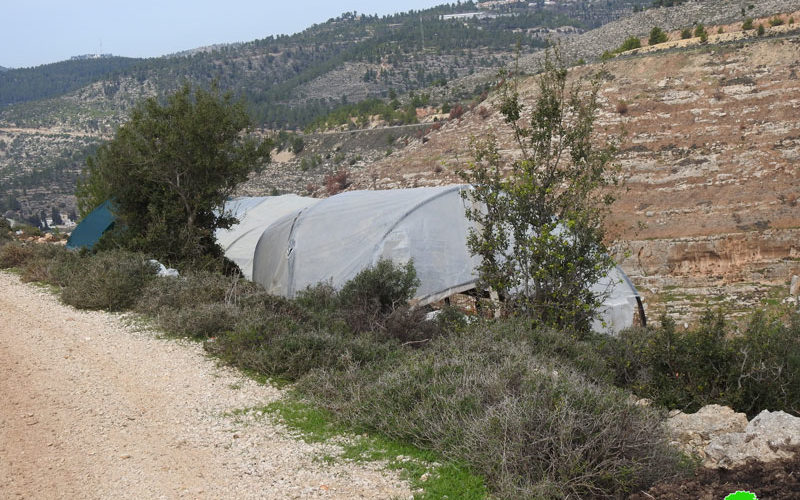 Violation: A colonist sets up a Shack on a Palestinian land.
Location: Marah Salah – Battir / Bethlehem governorate.
Date: November 17th 2020.
Perpetrators: Colonists of Gush Etzion illegal cluster.
Victims: Mu'amar , Rasheed and 'Arafat families.
Description:
Saturday, October 17th 2020, a colonists set up a shack on a road side in Marah Salah – battir town, the targeted plot belongs to several families around the village.
Hassan Batha told LRC:
"I am most of the time present at the area herding my cattle , it is a fertile area with an easy access, it is also my way to protect the land . In many days I saw colonists herding at the area as if the land belongs to him."
Citizen Mariam from Battir municipality told LRC reporter:
"We were at the location at the time he built the shack, we asked him what was he doing, and he told us to ask the Israeli police , we filed a complaint to the so called Israeli police , but they did not have a respond."
Noteworthy , the location of the illegal colonist's shack is a strategic site , as it is a road taken by most farmers of Beit Jala , Al-Walaja , Battir. It is also a hiking spot for citizens and tourists. The Shack became a source of terror for people of the village , as they fear it may turn to an outpost , and later into a colony, which is a case frequently occurs around the West Bank.
The Intruder Is obviously planning to take over the land , and this is the policy practiced since Zionist Jews started immigrating to Palestine , their goal was to create a demographic preponderance throughout forcible displacement of the indigenous people and illegal seizure of Palestinian lands.
Colonists for the last two decades have been illegally imposing control over Palestinian lands; the owners only find themselves facing the choice of going to The Occupation's court, which is biased to Israeli colonists. The court would rule that the plot is an Israeli state property (confiscated) and deprive Palestinians from their right to access the land , while under the table it allows colonists to use it.
About Battir :[1]
The village is located 7km to the western side of Bethlehem. It is edged by the occupied lands of 1948 from the north and west, al-Walaja village from the northeast, and Husan village from the south.
Battir has a total population of 5117 people until 2014 and has a total land area of 6681 dunum, 832 of which are built-up area.
Oslo Accords divided the lands of Battir as follows:
1467 dunums are classified as area B
5214 dunums are classified as area C
[1] GIS-LRC