Settlers carry out an Arson Attack in Saffa and Bal'in/ Ramallah governorate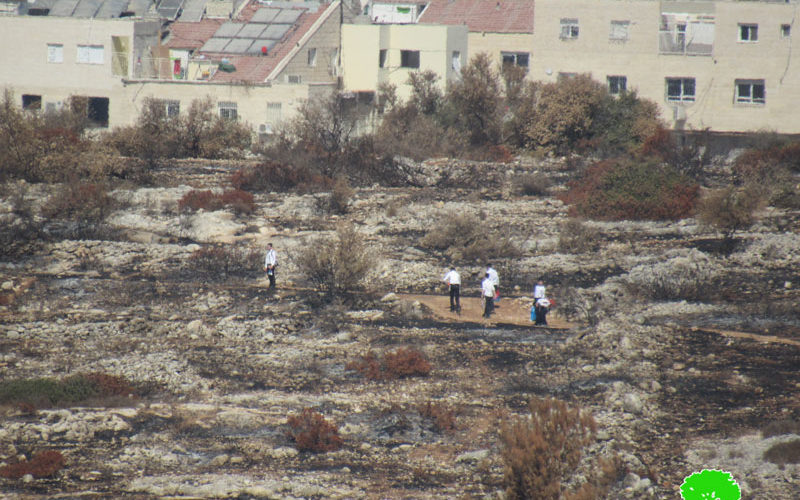 Violation: arson attack.
Location: Saffa and Bal'in/ Ramallah governorate
Date: Oct 9th 2020.
Perpetrators: "Kiryat Sefer" settlement.
Victims: Farmers of Saffa and Bala'in.
Description:
Olive trees are a symbol of land Arabism, it reflects the lands' Palestinian identity, Palestinian farmers patiently wait for the olive harvesting season.
According to eyewitnesses, Friday October 9th 2020 about 11:00 am , a group of extremist settlers from Kiryat Sefer settlement raided the olive groves area behind the Annexation and Expansion Wall , and set fire in olive groves at several locations, the flames ate up 300 dunums (1200 olive trees) , the arson attack  took place in several locations such as "Wad Al-Malaqi" , "Baten Hraiz" , "Al-Kersaneh", "Baten As-Sanam" , and "Al-Quma'a" areas of Safa and Bala'in villages.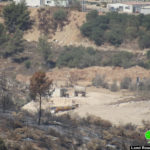 Photos 1-7: The Fire damages
Safa village Council head Ahmad Samara told LRC:
"After seeing flames eating up olive groves behind the Annexation and Expansion Wall, farmers of the village and owners of olive groves hurried to the wall gate, but the occupation forces prohibited them from passing through to turn off the fire, the only option they had was to call the International Committee of the Red Cross who tried to speak with the Israeli Authorities , but on the ground the occupation forces were still refusing to open the gate or even let Palestinian Fire Fighters in . The Occupation forces called an aircraft to combat the fire only around Kisryat Sefer settlements, while it was left to eat Olive groves."
The village Council head asserted that this is the third arson attack only during the last two years.
 Establishing a new outpost:
Few months ago, Israeli settlers established a new outpost and named it "Me'ora" on private Palestinian lands behind the Annexation and Expansion wall, the new outpost is only 1 km away from "Kiryat Safer" and built on a plot that belongs to Mansour family who filed a lawsuit against the perpetrators, but the case is cold by now. While the settlers of the new outpost received support from the Israeli government to grow and develop. 
About Saffa village / Ramallah governorate [1]
15 km to the west of Ramallah, Saffa is bordered by Bala'in village (north) , and several Israeli illegal settlements to the west , Deir Ibzigh village to the east , and Beit 'Ur Al-Tehta to the south.
Saffa has a total population of 4374 people according to 2017 census , and has a total area of 13666 dunums , of which 725 dunums are a built up area for the village , the occupation confiscated 8614 dunums for the following purposes:
Israeli settlement ate up 3561 dunums.
Bypass roads (443, 446, 455, and 4566) devoured 760 dunums.
The bypass road destroyed 483 dunums , isolated 7371 dunums , and is 4839 m long.
[1] GIS-LRC