"Leshem" colonists set 23 dunums of olive groves on fire in Deir Ballut / Salfit governorate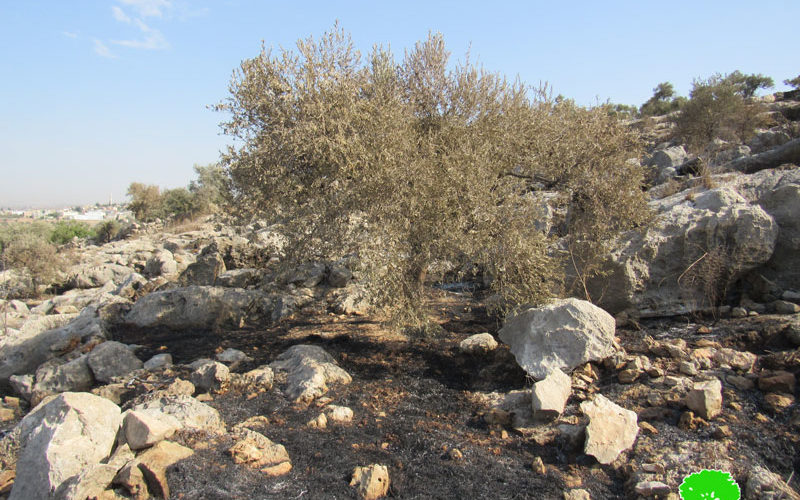 Violation: Setting fire on 23 olive trees.
Location: Deir Ballut town / Salfit governorate.
Date: Oct 7th 2020.
Perpetrators: The illegal colony "Leshem".
Victims: Three families from the town.
Description:
Wednesday, Oct 7th 2020, a group of settlers set fire in olive groves east Deir Ballut , in an area known as "Zaitounat El-Qata'a" and "As-Seer" nearby "Leshem" colony, the fire ate up 23 olive trees.
The targeted trees belong to farmers: Aziz Abdullah (11 trees), Mustafa Abdullah (9 trees), Ftayyeh Abdullah (4 trees) aging between 35-40 years.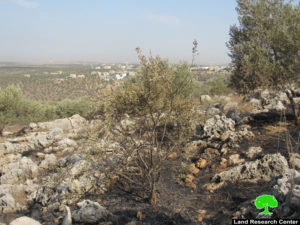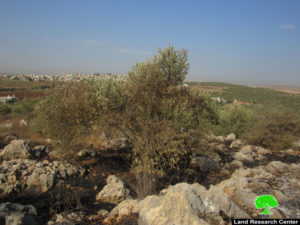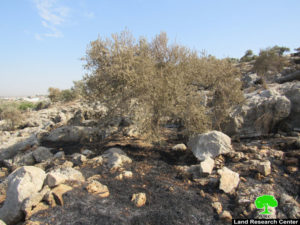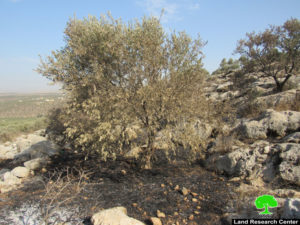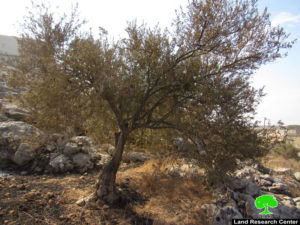 Photos 1-5: olive trees burnt by the fire
About the attack 'Aziz Abdullah told LRC:
"Wednesday, about 11:00 am, fire erupted in "Leshem" settlement in Deir Ballut ,  the hot weather and the dry grass were the fuel, Palestinian farmers and the Palestinian civil defense rushed to the place and tried to stop the fire manually , while the occupation forces were observing silently , the fire was controlled three hours after its eruption  , the flames unfortunatly destroyed the crop just before the harvesting season, leaving farmer with a great loss as they wait for the olive harvest patiently."
Deir Ballut village council head Yehia Abdullah told LRC:
"Since the construction of "Leshem" colony, we've been suffering from daily human right violations, settlers try their best to loot lands , and transformed the eastern area of Deir Ballut into a dump for their waste."
Leshem colony was established in September 2013 on Kafr Ad-Dik and Deir Ballut lands, on 240 dunums confiscated from the Archeological area of Deir Sama'an , where they built 120 colonial units. 
About Deir Ballut:[1]
24 km west Salfit, Deir Ballut is surrounded by Rafat village (north), The green line – occupied territories of 1948 (west), Kafr Ad-Deek village (east), Al-Lubban Al-Gharbi village (south).
 Deir Ballut is populated 3,870 people in 2017 census. The town's people are from several families, namely: Tufaha, Khair, Abdullah, Qassim, Qaroush, Mesha'l, Mustafa, Musa and Hadrous.
Deir Ballut has a total area of 11,339 dunums , of which 503 dunums are a built up area.
Deir Ballut is popular with rain-fed agriculture such as (Armenian cucumber, Ladies fingers, garlic and others), in addition to olives and wheat.
Deir Ballut contains a water spring in Wadi Al-Ein area, and the town's people depend on the National Israeli water company,  in addition to rain water harvest cisterns for daily use water.
The Israeli occupation devoured 436 dunums for the following purposes:
"Har Alei Zahav" illegal settlement was established in 1983 on 190 dunums of confiscated lands, it is populated 3119 settlers (The Israeli ministry of interior – 3 January 2019).
Bypass 446 devoured 127 dunums.
The segregation wall is 1,189 m long, it ate up 119 dunums and blocked 895 dunums. In case the plan of the segregation wall was completed , it will become 6,695 m lone, and eat up another 670 dunums , in addition to blocking 2,613 dunums.
[1] GIS-LRC