In time with Olive Harvest Season, the Israeli Occupation Forces ban access to 3000 dunums of olive groves around the West Bank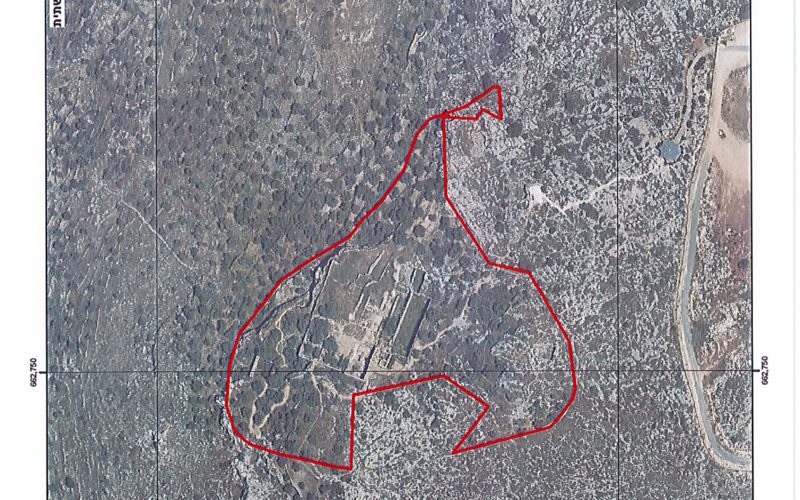 Just in time of olive harvest season, The Israeli Occupation army commander issued 63 military orders to ban access to 3000 dunums of olive groves, the Palestinian Ministry of Agriculture announced that The Season starts in October 7th 2020.
The military orders are signed by the Occupation Army Commander in West Bank in September 17th 2020, and entitled (closure of an area – prohibiting access and staying) , the military orders are attached by maps and Aerial images showing locations of the targeted plots ,and the orders will be valid starting from the day of signing until December 31st 2020.
The Orders targeted olive groves in several locations around the West Bank (Hebron, Bethlehem, Ramallah, and Nablus), they address the targeted plots as parts of settlements on closed areas.
Closure of an area means banning access, and whoever is in the area should immediately leave, but the orders claimed that holders of permits issued by the occupation authorities may access.
The Occupation forces and police were given instructions to enforce the ban and closure , and use what they called "reasonable power" against farmers who try to break the ban.
GIS unit in Land Research Center analyzed the attached maps, and found that the total  targeted area is 3000 dunums in several sites, the largest area is in Safa north Beit Ummar , about (872 dunums).
As the Olive harvest season approaches, the Israeli Occupation intensify access bans against olive farmers. While settlers protected by the occupation forces on the other hand, attack farmers ,and loot harvest and tools. The following table shows more information about the targeted olive groves in dunums by governorates:
#

Location / village

Settlement

Military order number

Area in dunums

1

Tarqumiya

Adora

Adora A1

11

2

Tarqumiya

Adora

Adora A2

1

3

Tarqumiya

Adora

Adora A3

47

4

Tarqumiya

Adora

Adora A4

6

5

Ash-Shuyukh

Mitzad

Mitzad A1

57

6

Ash-Shuyukh

Mitzad

Mitzad K2

11

7

Ash-Shuyukh

Mitzad

Mitzad K3

24

8

Sa'ir

Mitzad

Mitzad K1

52

9

At-Tawani

Mitzpe Avigail

Mitzpe Avigail A1

2

10

Aj-Jaba'a

Nahal Tzofit

Nahal Tzofit K1

49

11

Sourif

Nahal Tzofit

Nahal Tzofit K1

693

12

Beit Ummar

Nahal Tzofit

Nahal Tzofit K1

129

13

Dura

Negohot

Negohot A1

2

14

Dura

Negohot

Negohot A2

3

15

Aj-Jaba'a

Beit 'Ayin

Bet Ain West K1

35

16

Al-Bwaib

Pene Hever

Pene Hever A1

4

17

Taqu'a

Tekoa

Tekoa D A2

22

18

Tarqumiya

Telem

Telem A1

11

19

Sa'ir

Pnei Kedem

Pnei Kedem K1

24

20

Hebron

Tell Rumeida

Tell Rumeida K1

5

21

Hebron

Tell Rumeida

Tell Rumeida K2

3

22

Hebron

Tell Rumeida

Tell Rumeida K3

15

23

Hebron

Qiryat Arbaa

Qiryat Arbaa A1

6

24

Hebron

Qiryat Arbaa

Qiryat Arbaa A2

29

Hebron

1241

25

Beit Ta'mir

Izdebar

Izdebar A1

14

26

Wad An-Nis

Jabal Habun

Jabal Habun K1

9

27

Wad An-Nis

Jabal Habun

Jabal Habun K2

8

28

Janattah (Bed Flouh)

Kfar Eldad

Kfar Eldad A1

8

29

Janattah (Bed Flouh)

Kfar Eldad

Kfar Eldad A2

12

30

Janattah (Bed Flouh)

Kfar Eldad

Kfar Eldad A3

4

31

Janattah (Bed Flouh)

Kfar Eldad

Kfar Eldad A4

5

32

Janattah (Bed Flouh)

Kfar Eldad

Kfar Eldad K1

23

33

Janattah (Bed Flouh)

Kfar Eldad

Kfar Eldad K2

3

34

Janattah (Bed Flouh)

Nokdim

Nokdim A1

32

35

Kisan

Maale Amos

Maale Amos K1

12

36

Al-Khader

Neve Daniyyel

Neve Daniyyel North A1

18

37

Taqou

Neve Daniyyel

Neve Daniyyel North A2

6

38

Taqou

Neve Daniyyel

Neve Daniyyel North A3

16

39

Taqou

Tekoa

Tekoa A1

32

40

Taqou

Tekoa

Tekoa A2

37

41

Taqou

Tekoa

Tekoa A3

114

42

Taqou

Tekoa

Tekoa D A1

49

Bethlehem

402

43

Turmus'ayya

Adei Ad

Adei Ad A1

15

44

Turmus'ayya

Adei Ad

Adei Ad A2

121

45

Turmus'ayya

Adei Ad

Adei Ad A3

158

46

Turmus'ayya

Adei Ad

Adei Ad A4

304

47

Turmus'ayya

Adei Ad

Adei Ad A5

90

48

Turmus'ayya

Shilo

Shilo A1

28

49

Turmus'ayya

Shilo

Shilo A2

123

50

'Ein Yabrud

Ofra

Ofra A1

7

51

'Ein Yabrud

Ofra

Ofra A2

10

52

'Ein Yabrud

Ofra

Ofra A3

9

53

'Ein Yabrud

Ofra

Ofra A4

5

54

'Ein Yabrud

Ofra

Ofra A5

97

55

Al-Bireh

Pesagot

Pesagot A1

31

56

Sinjil

Maale Levona

Maale Levona A2

10

57

Sinjil

Maale Levona

Maale Levona A3

29

Ramallah

1037

58

Qaryout

Shilo

Aimeq Shilo A1

126

59

Qaryout

Shilo

Aimeq Shilo A2

86

60

Qaryout

Shilo

Aimeq Shilo A3

74

61

Qaryout

Shilo

Aimeq Shilo A4

4

62

Qaryout

Shilo

Aimeq Shilo A5

24

63

Qaryout

Shilo

Aimeq Shilo A6

6

64

Qaryout

Shilo

Aimeq Shilo A7

6

Nablus

326
For more information about Israeli military orders read this report: (Military orders ban access to olive groves around West Bank governorates)
To see illustrative maps created by the GIS unit (click Here)