Halt of Work Notice for Houses and Facilities in Al-Ghzaiwi – South Yatta / Hebron governorate
Violation: Halt of Work notice.
Date: October 25th 2020.
Location: Ghzaiwi – Yatta / Hebron Governorate.
Perpetrators: The Israeli Occupation Civil Administration.
Victims: Three Palestinian families.
Description:
 October 25th 2020, The Israeli Occupation Authorities issued halt of work notice for houses and facilities on the pretext of building without licenses in "Ghzaiwi" South Yatta / Hebron governorate.
Citizen Mohammed Makhamra told LRC:
"A vehicle from the building and organization department, and an army patrol raided the area, and the inspection officer wrote the notices and hanged them on the targeted structures then took pictures of them before withdrawing."
The notices ordered the immediate stoppage of construction works, and set November 18th 2020, as the date of the subcommittee session in Beit El military court to decide the fate of the structures.
The Occupation Authorities issued three halt of Work Notices, explained in the following:
Halt of Work notice number (31129): which targets an under construction house belong to Musa Abu Fanar , He started working in the house in early 2020 , the house is still under construction and has a total area of 120 m2 , and was supposed to be a home for a family of 5 , 3 of them are children.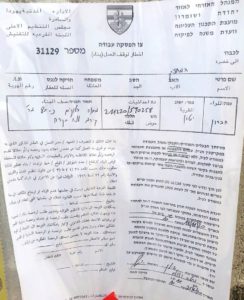 Halt of Work notice number (31131): which targets an electricity network, about (700 m) , that provides citizen Musa Abu Fanar with electricity.
In early 2020, the occupation had issued halt of work and demolition notices for structures belong to Musa Abu Fanar , noting that he lives about half a meter away from the village's houses , and used generators to provide electricity for his house  , he recently planted wood columns to get electricity supply directly from the municipality, but they were also notified.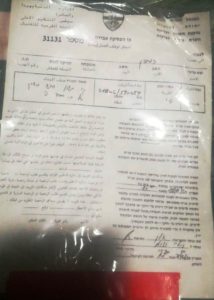 Halt of work notice 31131 which targets an electricity network
Halt of Work notice number (31132): Which targets an under contraction cistern belong to citizen Aziz Dawoud , the cistern was being dug as part of an agricultural project to provide a water harvesting method for irrigation.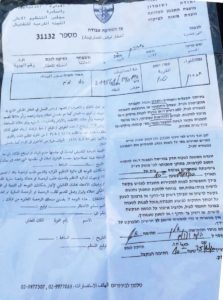 Ghzaiwi area is located to the south of Yatta , nearby Ma'in village , The area is bordered by bypass 317 , and overviews Avijal colony.
And to the south, Ghzaiwi is bordered by the Palestinian village Susiya , and the Israeli illegal colony also named "Susiya" built on confiscated lands.
Recently, the Occupation authorities escalated their attacks against Palestinian houses and facilities in Al-Ghzaiwi.
For more information about Israeli Violations in Al-Ghzaiwi read the following LRC report: