Bruchin colonists sabotage olive trees in Kafr Ad-Dik west Salfit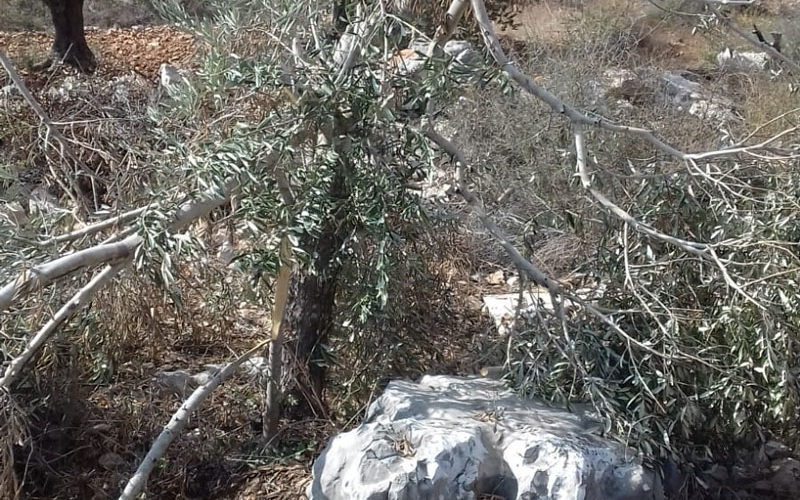 Violation: Attacking 12 olive trees.
Location: Kafr Ad-Dik / Salfit governorate.
Date: October 4th 2020.
Perpetrators: Bruchin colonists.
Victims: Ahmed Family.
Description:
In the early morning hours of Sunday October 4th 2020, a group of Bruchin colonists sneaked to Sosa area to the north of Kafr Ad-Dik, and cut and sabotaged 12 olive trees aging 30 years old , the targeted trees belong to framers : Othmaniya 'Ali Ahmed (10 trees) , Muntazer Ahmed (2trees).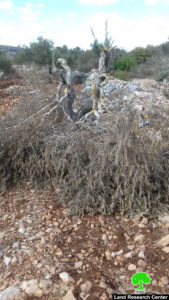 Photos 1-5: After the attack on olive trees
This attack occurred at the beginning of the harvesting season, every year during this season colonists escalate attacks on olive trees in order to harm Palestinian farmers who value and appreciate much the olive tree.
Othmaniya Ali Ahmed (62) from Kafr Ad-Dik told LRC:
"I own a plot in Susiya with a total area of 4 dunums , I inherited the land from my father , and I cultivate it every year . Sunday , I went to the plot with my sons to harvest olives , and was shocked of colonists cutting and sabotaging olive trees. Noting that every year I used to harvest 300-350 kilos of olive harvest from the trees, last year they threatened to damage the trees if I kept going to the land, and the threat became a reality this year."
Kafr Ad-Dik mayor Mohammed Issa Ad-Dik told LRC: "illegal colonists are trying to take over lands that surround Israeli colonies. All of these schemes aim to link Bruchin and Eli Zahav through devouring vast areas of agricultural lands. Two years ago , fanatic colonists cut trees at the same location that belong to farmers 'Atef Abdul hamid and Mohammed Taha , before that settlers sprayed chemical poisons on trees that belong to Khader Ad-Dik, and settlers still target the area for future confiscation."
Kafr Ad-Dik:[1] 
Kafr ad Dik is located 15 km to the west of Salfit. It is surrounded by Bidya (north), Rafat and Deir Ballut (west), Bruqin and Sarta (east), and Bani Zaid villages (south).
Kafr ad Dik has a population of 4553 people, according to a 2007 census.
Its total area is 15529 dunums; however, it has been suffocated by bypasses and 3 Israeli colonies that lay over its lands.
This has further limited its expansion knowing that it had already had a 791-dunum organizational plan (built-up area); it also isolated the village from its surroundings.
The Israeli occupation confiscated 2477 dunums of Kafr ad Dik lands for the benefit of:
Colonies devoured 1225 dunums, and they are:
Name of colony

Year of construction

Area of confiscated land/ dunum

Number of colonists

Har Eli Zahav

1983.

134.

339.

Eli Zahav- Yoezer

1982.

290.

424.

Bedoel

1984.

800.

1088.

·

1999.

1.

339.

·

1225.

1512.
*Source: Field Research- Monitoring Israeli Violations Team- Land Research Centre (LRC).
Bypasses stole 362 dunums
The Apartheid Wall seized 890 dunums and isolated 8824 dunums and is expected to be 8905 long in Kafr ad Dik lands.
Lands of Kfar ad-Dik are categorized according to Oslo Accords into lands under Area B (15% of the lands) and lands under Area C (85% of the lands).
[1] GIS-LRC