The occupation demolishes an industrial facility in Wadi Qaboun, north of Hebron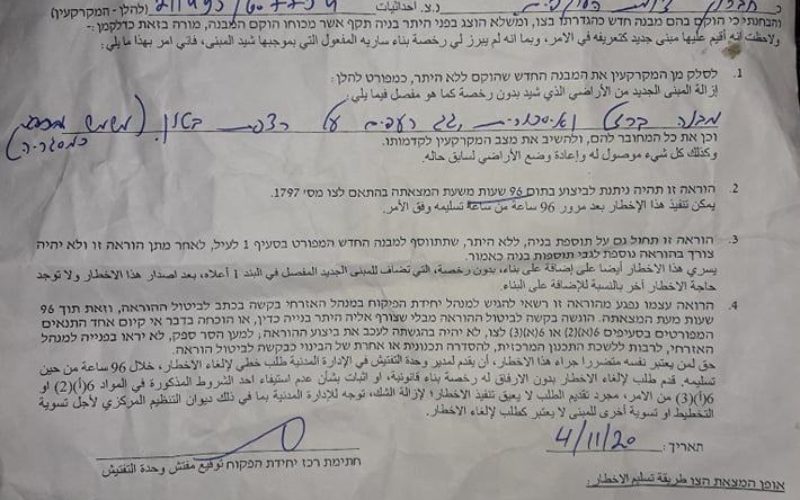 Violation: demolishing an industrial facility.
Date of violation: 11/09/2020.
Location: Halhul City – Wadi Qaboun / Hebron Governorate.
Perpetrator: the so-called Israeli Civil Administration.
Affected person:  Citizen Luay Al-Shanna.
Violation details:
On 11/11/2020, the Israeli occupation authorities demolished an industrial facility owned by Luay Abdul Rahim Ahmed Al-Shanna, under the pretext of building it without a permit, in the Wadi Qaboun area north of Hebron. The facility is a barrack of 72 square meters, built from tin sheets, roofed with tiles, and installed on a reinforced concrete floor. It was to be used as an aluminum actuator. The owner began to bring some tools and supplies for the actuator, but the occupation authorities destroyed it before completion.
Al-Shanna, 41 years old, gave the following account to LRC field researcher:
  "  An  occupation army force, accompanied by employees from the Planning and Building Department of the Israeli "Civil" Administration in the occupied Palestinian territories as well as workers belonging to an Israeli civilian company stormed my place at eight o'clock in the morning. Then,  the  workers began to take the assets out of the building and throw them  away , then  a bulldozer – VOLVO type-     began the demolition building".
The facility, which was built at the cost of 65000 Shekels meant to be the source of income for the citizen's family, consisting of 5 members including 3 children. In his account, the affected citizen indicated that:
" The occupation authorities issued on 11/4/2020 a notice, a copy of which was stuck on the targeted building, in which it demanded me to demolish and remove the facility immediately, and threatened that if I didn't carry out the demolition, they would do it themselves after 96 hours from the date of issuance of the notice, and this what happened".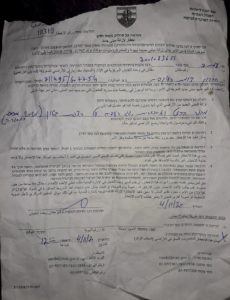 Attached picture: A copy of the notice of demolition of the facility 
It should be noted that the occupation authorities have relied on Military Order No. 1797 issued in the year 2018 which targets newly constructed buildings inhabited less than a month. So Far, the occupation courts refuse to consider objections submitted by citizens to these types of notices.
Halhul Town:
The town of Halhoul is located 7 km north of Hebron. The total area of Halhul is 39 thousand dunums of which 9000 dunums are built up and the rest is agricultural lands planted with grapes, almonds and peaches. It rises 1050 meters above sea level and is considered the highest point in the West Bank. The population of Halhul is approximately 27,031 people, according to the statistics of the Palestinian Central Bureau of Statistics in 2017.