Notices target Residences and Facilities in At-Tawani village / south Hebron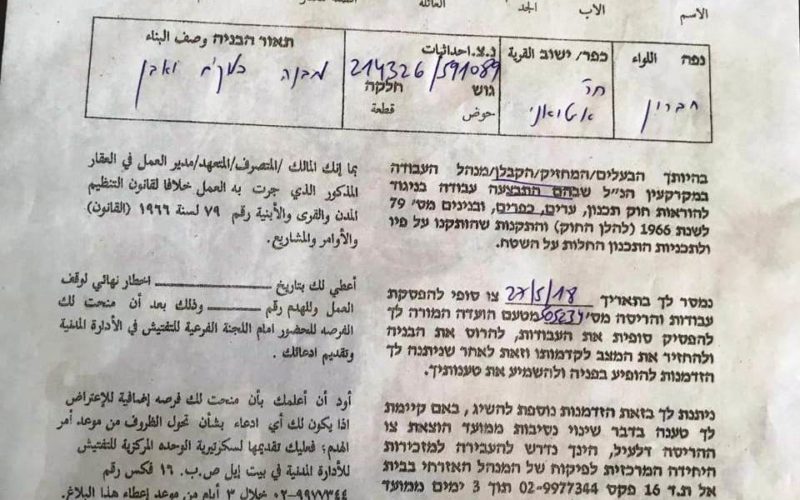 Violation: Halt of work notices.
Date: September 14th 2020.
Location: At-Tawani village – Yatta town / Hebron governorate.
Perpetrators: The Israeli Occupation Civil Administration.
Victims: Families from At-Tawani village.
Description:
Monday, September 14th 2020, The Israeli Occupation Authorities issued halt of work and construction notices for several houses and agricultural facilities in At-Tawani village east Yatta , on the pretext of building without licenses.
A massive army force accompanied by the building and organization officer in the civil administration raided the area, wrote the notices and hanged them on the targeted structures, then took pictures of them before withdrawing.
Notice entitled "extending the chance to object": The Occupation Authorities handed a demolition order to Maryam Abu 'Aram , and gave her only 3 days to object , the notice was entitled (17/237).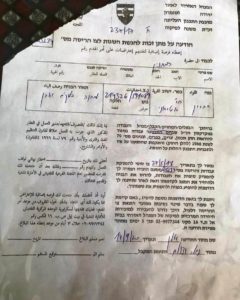 The targeted house was built in 2017, and inhabited by a family of 7, 5 of them are children; it has a total area of 70 m2 and built of bricks and steal sheets.
Halt of work and construction notices: The Occupation Authorities gave citizen Musa'ab Rabae a halt of work notice on his house, and another one to Citizen Mohammed Rabae on his shack.
The Occupation authorities ordered the immediate stoppage of construction works and set October 14th 2020, as a date for the subcommittee session in Beit El military court to decide the fate of the structures.
The following table shows more information about the targeted facilities:
| | | | | | |
| --- | --- | --- | --- | --- | --- |
| Affected citizen | Notice number | The targeted building | Area of the building | Construction year | Status of the building |
| Musab Rabae | | House – Supports a family of 7 | 110 m2 | 2020 | Under construction |
| Mohammed Rabae | | Shack – Contains 50 head of sheep | 70 m2 | 2019 | used |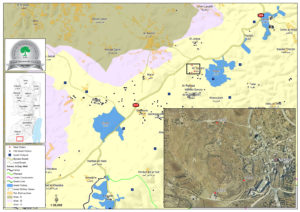 About At-Tawani : [1]
At-Tawani village is located to the south of Hebron city in West Bank, it is only 20 km away from Yatta , and has a population of 250 people. At-Tawani is administrated by a village council , and the village contains a clinic , mosque and school to the eighth class. At-Tawani depends on rainwater for drinking an electricity generator to lighten the village. Surrounded by four settlements and a bypass road , At-Tawani is one of the most vulnerable villages.
[1] GIS-LRC