Halt of Work notices for houses and facilities in Birin/ south Hebron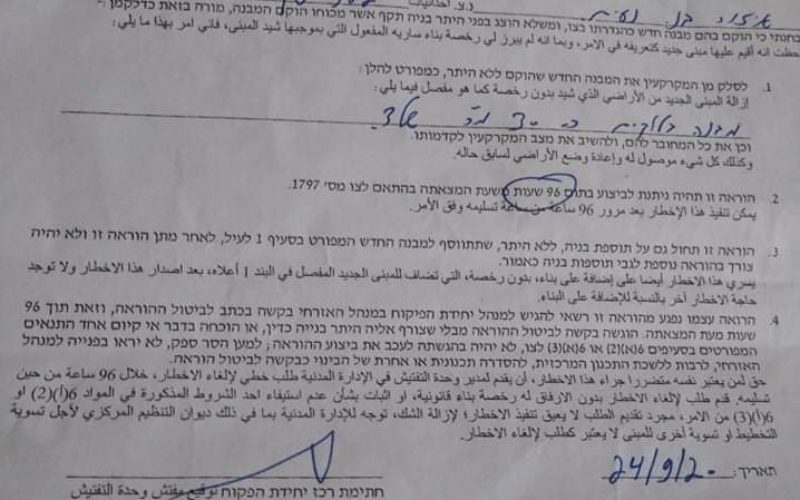 Violation: Halt of work and demolition notices.
Date: Aug 24th  and Sept 23rd 2020.
Location: Birin- Bani Na'im/ south Hebron.
Perpetrator: the so-called Israeli Civil Administration.
Victims: Citizens of Bani Na'im.
Violation details
Aug 24th 2020, The Israeli Occupation Forces accompanied by the building inspector in the planning department of the so-called Israeli Civil Administration in the West Bank raided Birin south Hebron, and served notices to two houses .Here are more details:
Halt of work Notice number 00588: it was issued against a residential tent owned by Citizen Akram Abu Dawood. The targeted tent is inhabited by Abu Dawood family, which is composed of 5 members, including 3 children.
The Occupation Authorities set Sept 9th 2020 , as the date of the subcommittee session in Beit El Military court to decide the fate of the structure.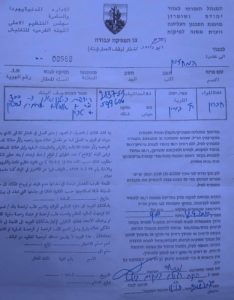 Notice number 00588, which targets the residence of citizen Akram Abu Dawood
2- Notice to "demolish and remove a new building" (10316): It was issued by the occupation authorities in August 24th  , and targeted a house that belongs to Bilal Al-Ajlouny inhabited by a family of 5, including 3 children. Noteworthy, the targeted house is built of bricks and roofed with steel sheets.
The Occupation Authorities ordered the demolition and removal of the building on the pretext of building without a license, and threatened to implement the demolition within (96) hours , in reference to Military order (1797) issued in 2018.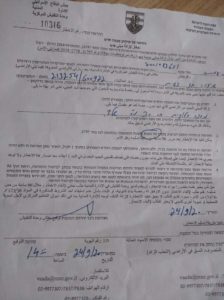 Notice No. 10316, targets a residence belongs to citizen Bilal Al-Ajlouni 
Halt of Work Notice No.00598 issued in Sept 23rd 2020 , which targets a plot surrounded with retaining walls and used as a parking lot. It is owned by citizen Jawad Hamzah Shaheen.
Copy of notice No. 00598 targeting the parking lot