Halt of Work Notices for Arab Al-Fureijat south Hebron governorate
Violation: halt of work and constriction notices.
Date: September 8th 2020.
Location: Arab Al-Fureijat – Ar-Ramadeen / Hebron.
Perpetrators: The Israeli Occupation Civil Administration.
Victims: families from Mlihat and Abu Al-Hassan clans.
Description:
Tuesday, September 8th 2020 , the Israeli Occupation Authorities issued halt of work notices for several structures and facilities in Arab Al-Fureijat community east Ar-Ramadeen south Hebron.
Residents of the community said that a vehicle from the building and organization department in the civil administration accompanied by an army patrol raided the area , and the inspection officer wrote the notices then hanged them on the targeted structures before withdrawing.
The occupation authorities ordered the immediate stoppage of construction works on the pretext of building without licenses; As Arab Al-Fureijat community is in C area according to Oslo Accords, the Authorities set September 23rd as the date of the subcommittee session in Beit El military court to decide the fate of the structures.
The following table shows more information about the targeted facilities:
#

Owner name

The targeted building

Area m2

Building status

Notice number

notes

1

Shukri Mlihat

Shack

300

Used

Used for cattle breeding – 200 cattle heads

2

Ahmed Abu Al-Hassan

house

80

Under construction

The owner supports a family of 3

3

Sami Abu Al-Hassan

house

250

Inhabited

The owner supports a family of 5

4

Mohammed Abu Al-Hassan

house

100

Under construction

31184

The owner supports a family of 4

5

Samer Mlihat

house

160

Under construction

Owner is welling to start a family

total

890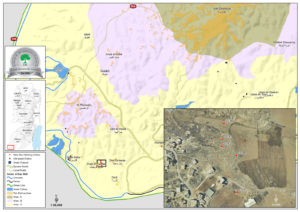 Arab Al-Furijat area is situated to the east of Ar-Ramadeen Suburbs, over viewing the occupied territories of 1948 , the occupation authorities built a segment of the Annexation and Expansion wall south the village , and the crossing (to the occupied territories) is set up east the village.