Efrat colonists set fire to 60 Olive trees in Al-Khader / Bethlehem governorate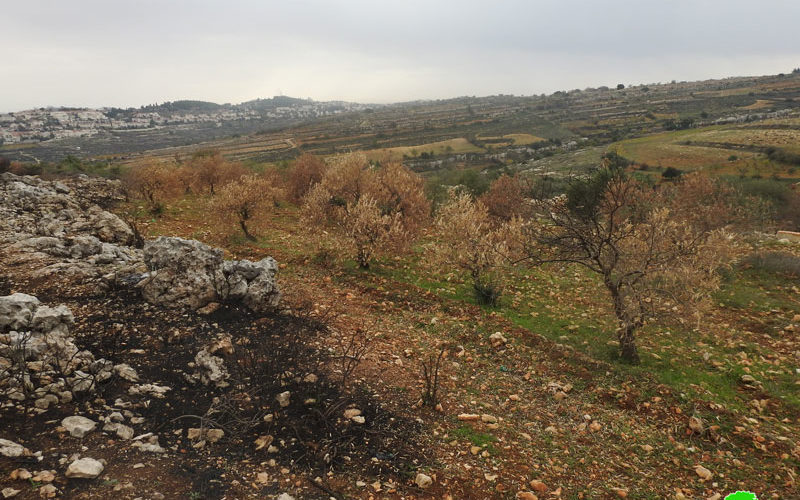 Violation: Setting fire to olive trees.
Location: Wad Ash-Shami and She'ab Al-Za'atar – Al-Khader town / Bethlehem governorate.
Date: September 25th 2020.
Perpetrators: "Efrat" colonists.
Victims: Citizen Mohammed Salah and Abdullah Salah.
Description:
Friday, September 25th 2020, colonists cut 40 olive trees aging 10 years old belong to citizen Mohammed Salah , and set fire to 20 olive trees in She'ab Za'atar , belong to citizen Abdullah Salah.
Iyad 'Issa from Melad offices told LRC the following:
"The Occupation forces and colonists escalated their attacks on lands related to Al-Khader town . Few farmers from the village went to their farmlands and found massive flames eating up most of the area's trees."
Mohammed Khader owns a 6 dunums plot , of which 3 dunums are planted with olives , they provide a subside source of income for the family.
Iyad Issa told LRC : "People of Al-Khader town difficultly access their farmlands , due to rough roads , the need for more roads, farmers however are holding well to their lands , the occupation ravages roads and destroy their properties , But people of Al-Khader are steadfast in their indigenous land  ."
Agriculture is the keystone of Palestinian economy, and it is a main source of income for Palestinian families , but the occupation carries out  continuous attacks against farmers and farmlands.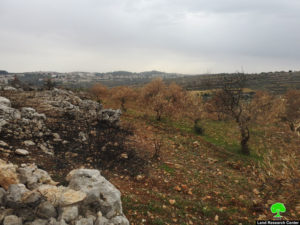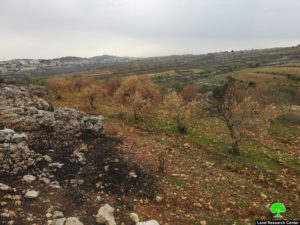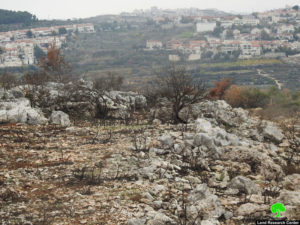 Photos 1-3: The targeted olive trees
About Al-Khader village: [1]
Al-Khader village is located 4 km from the western side of Bethlehem, it is bordered by Beit Jala and Batir from the north, Hussan and Nahaleen villages from the west, Aldoha, Wadi Rahhal, Beit Jala villages from the east, and Wadi Al-Nees from the south. Its population is 11960 people in 2017. Its gross area is 8,279 donums; 184 of them are the construction area.
The Israeli colonies have despoils 29 donums from the village's lands; two are colonies existed upon a part of the lands. The first one " Efrat" was constructed in 1979 A.D; they have usurped 5.8 donums, and its population 7037 colonists. The second one " Nafy Danial" eas constructed on 1982A.D; they have usurped 23 donums, and its population is 1073 colonists. A part of which is established upon the village's lands.
The bypass roads number 60 and 375 also despoiled more than 487 donums. In addition to establishing the apartheid upon its lands which causes the demolishing of 280 donums and isolating of 5638 donums behind it. The length of this apartheid existing upon the village's land is 2,805 meters.
The village's lands are classified in accordance with Oslo concord into areas( A,B ,C). Area A composes 10% , Area B 6%, Area C is the greatest area and it is under the total occupation domination, and it composes 84% from the total area. The areas are clarified in donums as following:
Area A (808) donums
AreaB (475) donums
Area C(6,996) donums
[1] GIS-LRC